Allure – Wearable G Spot Vibrator with Clit Stimulator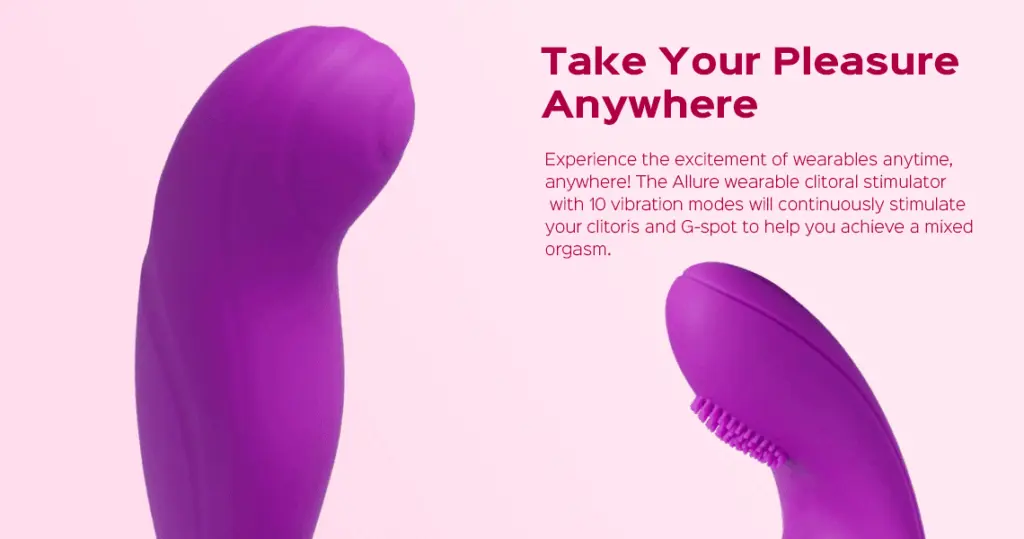 With its ergonomic design, this G-spot vibrator is perfect for women who crave a hands-free, comfortable and discreet pleasure experience.
At first, Allure features a wearable design that effortlessly conforms to your body's natural curves. it perfectly fits your body and delivers targeted vibrations directly to your G-spot.
Secondly, comes with a built-in clit stimulator that delivers mind-blowing sensations to your most sensitive pleasure points. In addition, the powerful motors of this wearable sex toy ensure that you receive maximum pleasure, making sure you are satisfied every time you use it.
It's also perfect for discreet solo play or can be handed over to your partner for an added element of surprise and pleasure.
What's more, Allure is completely waterproof, which means you can enjoy it in the shower, bath or even in the pool. The waterproof design makes cleaning it after use easy and hassle-free.
So this wearable vibrator is perfect for anyone looking for hands-free stimulation and intense G-spot and clit stimulation.
Specifications
Material: Silicone
Size: 5.5″*3.7"*1.2″
Remote Controller Size: 3.3″ x 1.4″
Weight: 0.5 LB
Insertable length: 4.21″
Charging Time: 2 Hours
Use Time: 1-2 Hours
Distance: 5-10 Meters
Rechargeable: USB Pin Style Charging Cord 
Waterproof: IPX6
How to use
Step 1
Apply enough lubricant to the intimate area to ensure a silky smooth entry.
Step 2
Turn on the switch and select the appropriate vibration mode.
Step 3
Next, it's your time to enjoy, scream your heart out!
FAQ
Is this toy suitable for newcomers?
Of course, whether you have experience in this area or not, it can meet your needs.
How do I clean it?
Due to its excellent waterproofness, it is very easy to clean with water.
What is its remote control range?
About 5 to 10 meters, so you can enjoy it in your room.