Why choose Leo Avant – Big Rainbow Dildo With Suction Cup ?
The unique rainbow colors will catch your eye, but this dildo offers much more than that.
With its lifelike skin texture and sturdy yet flexible shaft, it delivers unparalleled stimulation. The soft and comfortable touch will hit your sensitive spots, making you scream in pleasure. Whether you're indulging in solo play or exploring couple's games, it will satisfy you.
Moreover, the powerful suction cup design allows you to free your hands completely. It securely sticks to any surface, so you can fully enjoy yourself anywhere. The rounded head and raised veins provide intense stimulation that you won't be able to resist.
So, don't miss out on the chance to add the Leo Avant Big Rainbow Dildo with Suction Cup to your collection.
Features:
Iridescent appearance is appealing and fun.
Use in a harness to enjoy strap on play as a couple .
Realistic dildo with representative skin texture for lifelike feeling.
Firm but flexible shaft and soft cover offers incredible stimulation.
Strong suction cup gives hands-free play options and can be used for pegging.
Rounded head and raised veins deliver incredible internal sensations.
Detailing includes raised veins, a bulbous head, and a gentle curve for your pleasure .
Best for users with some big toy experience.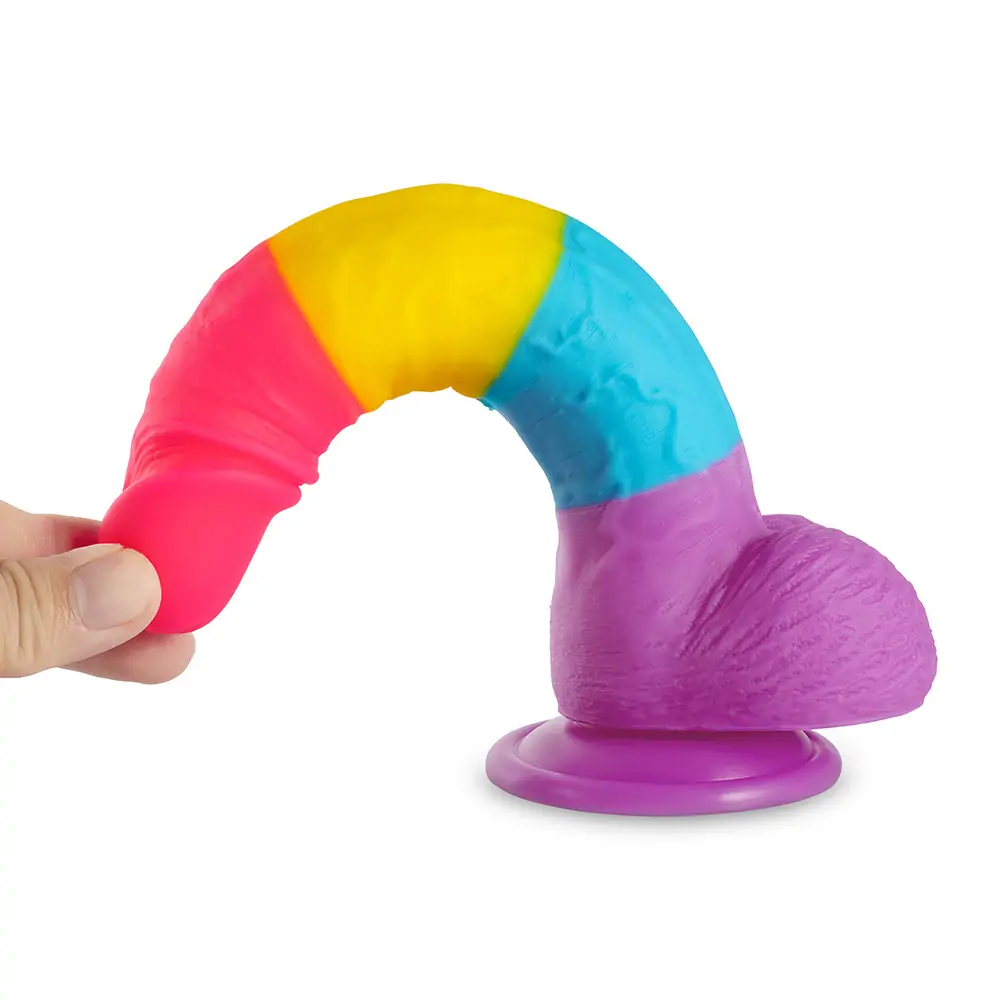 Specifications
Material: Silicone
Width: 1.8″
Insertable length: 7″
Total Length: 9″
Weight: 0.9 lb
How to use
Step 1
Firstly, secure it to the floor or other place.
Step 2
Then, sit down slowly and feel the fullness in your body.
Step 3
Last, increase the frequency and enjoy the orgasm.
FAQ
What is the size of this toy?
It has an overall length of 9″ and an insertable length of 7″.
Is this toy suitable for beginners?
Of course, it is suitable for everyone, whether you are experienced or not.
Is this toy waterproof?
Of course, the waterproof design unlocks more places for you to have sex.
Care & Storage
Clean with toy cleaner, or soap and warm water.
Store in the included box or dust bag when dry.