If you're in need of a large and fully functional dildo, then look no further than the RATTLESNAKE. Its unique and stylish design promises an unforgettable experience.
The semi-covered tip provides an extra level of sensation, while the textured and grooved parts offer a more stimulating experience. Not only that, this dildo also has 3 thrusting modes that mimic a real penis, providing a more realistic experience.
With 5 powerful vibrations and a quick heating function that can reach 42°C, your touch will feel even more authentic and comfortable. And with a remote control range of 10 meters, you can easily use it solo or during intercourse, bringing even more pleasure.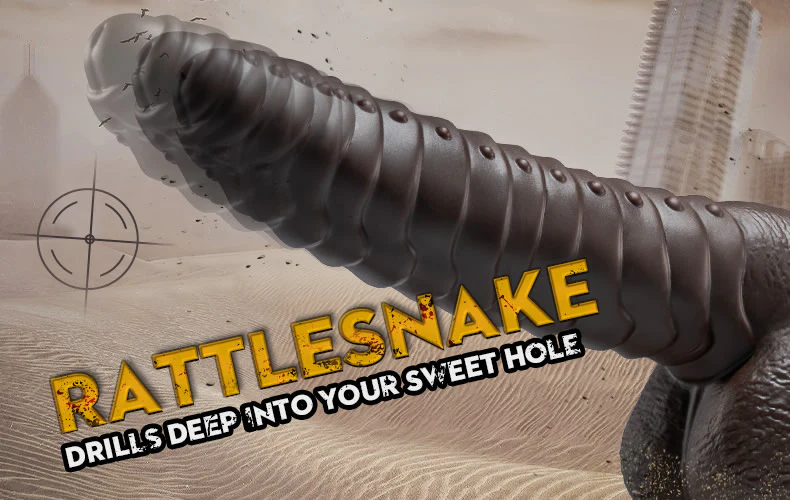 Features:
Not only impressive in appearance, but covers 5 vibrations, 3 thrusting, and even heating functions.
Heat quickly for 5 minutes to 42° and feel the heat from the real penis
Deep gullies and raised dots rub against sensitive parts of your body inside
The base comes with a suction cup, allowing you to use it in different scenarios.
With 10M remote control, enjoy as is, or wear it during sex and solo escapades.
Specification:
Size: 8.7*1.5″
Weight: 1.2lb
Website: depthsex
Package included:
1*dildo
1*remote controller
1*charging cable
1*manual
How To Use
Step 1
Firstly, apply enough lubricant to the intimate area to ensure adequate wetness.
Step 2
Then, turn on the switch and set it to the best vibration mode.
Step 3
Last, insert slowly and let out a scream!
FAQ
How many modes does it have?
For different users, we provide 5 vibration 3 thrust modes for you to pick.
Is this toy suitable for beginners?
To be precise it is suitable for everyone, whether you have experience in this area or not.
Is it suitable for two-player games?
Of course, you can use it with your partner and have double fun.