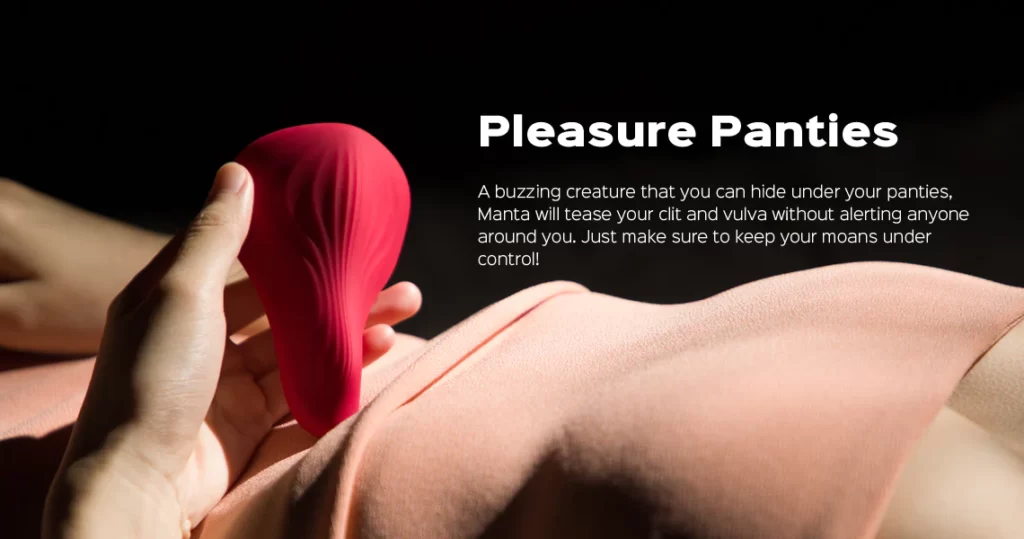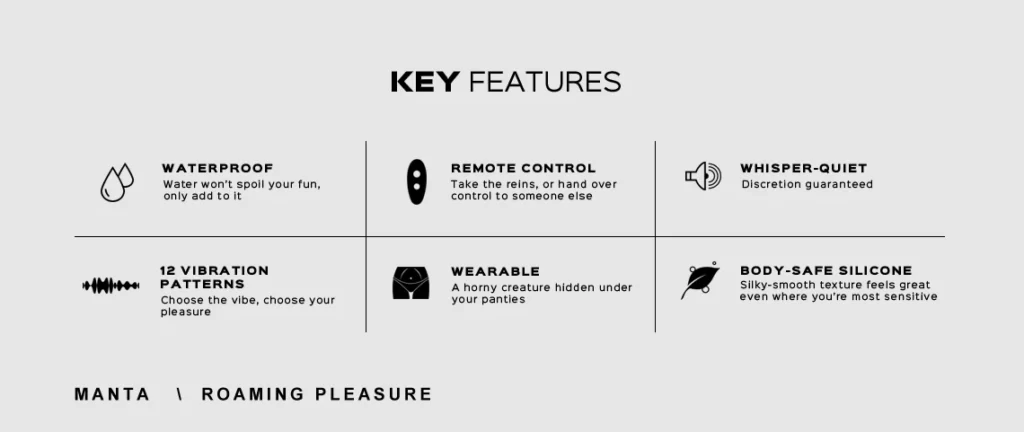 Manta – Remote Control Wearable Pantie Vibrator
Manta is the pinnacle of innovation, utilizing wireless remote control technology for anytime and anywhere orgasmic stimulation. You can easily control this discreet device and immerse yourself in exquisite pleasure.
Designed for Ultimate Comfort and Sensation
Manta – Remote Control Wearable Pantie Vibrator boasts an ergonomic design that fits perfectly to the curves of the female body, bringing unparalleled comfort. With its compact size and flexible silicone and ABS materials, it's suitable for women of all body types.
Customizable Vibration Modes for Your Unique Desires
This wearable pantie vibrator has 12 different vibration modes, allowing you to choose the perfect setting to suit your mood and needs. With a rechargeable battery, it takes only 1.5 hours to charge and can be used for up to an hour. It's also IPX6 waterproof, enabling you to indulge in pleasure in the shower or pool.
Safe, Quiet and Worry-free Enjoyment
Vibrator uses 100% safe, medical-grade silicone material that's free of harmful substances, ensuring your health and safety. At less than 50 decibels, the noise level is discreet enough for you to enjoy it in privacy.
Experience heightened pleasure with Manta – Remote Control Wearable Pantie Vibrator, your perfect personal pleasure partner. Order now and enjoy unforgettable stimulation.
HOW TO USE   
Step 1: 
At first, attach the side with the on/off button to your panty or swimsuit bottom. Once turned on, position the ridged side to stimulate your clit and enjoy the sensational stimulation.
Step 2: 
Secondly, with the remote, hand over control to your partner, who can tease and please you from a distance. This creates an erotic game of pleasure where you can go out to a public place like a romantic restaurant, a public park, or the cinema, and your partner can control your pleasure from afar.
Step 3: 
At last, experience the ultimate erotic game of pleasure with Manta, get ready for an exhilarating and steamy experience that you and your partner will always win!
Specifications
Material: Silicone+ABS
Size: 4.3″*2.7″*1.0″
Net Weight: 0.17 LB
Noise Level: ≤50 DB
Battery Type: Li-ion Rechargeable
Charging Time: 1.5 Hours
Using Time: 1 Hour
Modes: 12 Vibrating Patterns
Waterproof: IPX6
FAQ
Will I be able to wear it outside?
Of course, you can even take it to the park and enjoy the excellent excitement.
How do I clean it?
Because of its excellent waterproofness, it is very easy to clean, just use water.
Is this toy suitable for beginners?
Whether you have experience in this area or not, it can bring you a great experience.