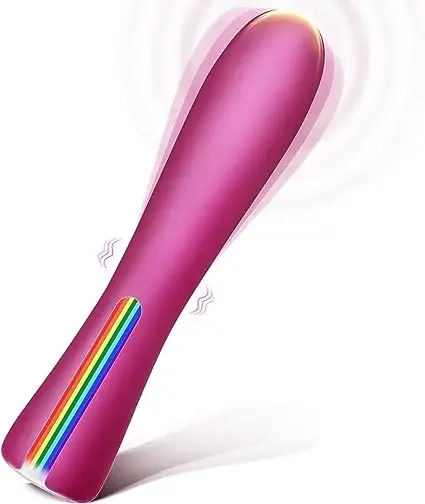 MOOLIGIRL has always been committed to igniting the sexual lives of every customer, offering more ways for them to experience passion and happiness. The MOOLIGIRL G Spot Vibrator is a meticulously crafted vibrating toy, showcasing a unique design and powerful functionalities that make it our top choice.
So, let's dive into the details of this toy. We will provide comprehensive information on its specifications, features, and user experience, allowing you to gain a better understanding of this product. If our article proves helpful to you, please don't hesitate to show your support. Your encouragement is our greatest driving force for continuous improvement.
Rating: (4.7/5)
Specification
Price: $15.99
Material: Silicone
Size: 8.78 x 3.39 x 1.65 inches
Weight: 7.37 oz
User Experience
This toy is an absolute gem for using and playing; it drives me crazy! I enjoy exploring various types of sex toys and the excitement that comes with trying something new. During one intimate session with my boyfriend, he unexpectedly pulled out this vibrating wand. I was pleasantly surprised and eagerly anticipated what was coming next.
And boy, it did not disappoint. The soft silicone felt amazing against my skin, providing just the right amount of stimulation, and the size was perfect, at least for me. Watching it slide completely inside my body got me excited. I raised my hips, hoping for deeper penetration. I could feel it teasing my G-spot, and in that moment, it was like reaching heaven. Not to mention, each vibration pattern delivered a unique sensation. My goodness, it felt like I was being expertly pleasured by a skilled lover. I highly recommend it to anyone looking for more satisfaction.
Features
This vibrator is the ultimate pleasure-bringer for women. Made with high-quality silicone, it's safe and comfortable for both vaginal and anal use. The gentle curve, length, and flexibility provide the perfect sexual experience, guiding you towards intense climaxes. Additionally, the inclusion of a rainbow stripe adds more fun to your playtime.
In terms of vibrations, ranging from gentle to intense, you can discover your body's rhythm and personalize your unique pleasure. All you need to do is lie back quietly and relish in unparalleled satisfaction. Moreover, the powerful internal motor ensures an all-encompassing vibration experience, taking you on a wave-like journey to orgasmic bliss.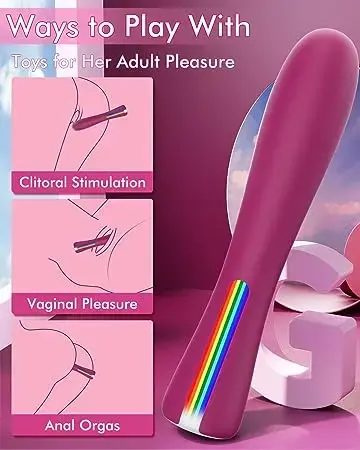 FAQ
What makes this toy special?
This vibrator offers 360° power, massaging your sensitive spots and internal muscles, leading to wetter, more exhilarating, and deeper pleasures. Undoubtedly, it's a versatile and travel-friendly adult sex toy.
Is it suitable for couples' players?
Absolutely! Its user-friendly features make it easy to use during couples' play. Hand over control to your partner and enjoy a steamy night together.
This vibrating wand uses magnetic charging, eliminating the need for battery replacements. Simply plug it in for charging. Its convenience also makes it perfect for travel; you can take it with you, especially for camping or staying in a hotel.
Advantages
Safe and comfortable silicone material
Unique styling with fun rainbow bands
Powerful motor system
11 different vibrations to explore
Disadvantages
Summary
That wraps up our comprehensive review of MOOLIGIRL G Spot Vibrator. If you're interested in this product, check out our homepage for other outstanding and similar toys by clicking the subscribe button below. Additionally, we offer custom services, so if you have any specific needs or desires, including full-body dolls, we're here to assist you. Feel free to reach out to us anytime; we're eager to hear from you.
Finally, thank you for reading. If you want to learn more about adult products, stay tuned for updates. Thank you for your support!