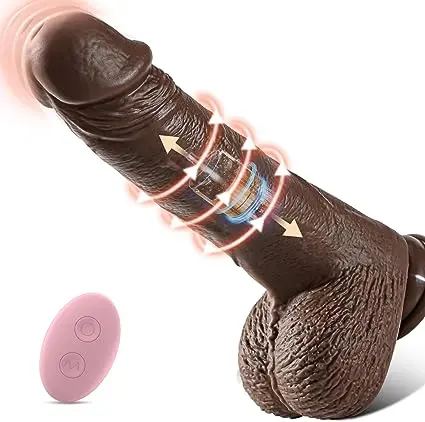 No sex toy can replace the role of a dildo in women's self-pleasure games. A realistically textured vibrating dildo can deliver the ultimate climax experience. The star of today's discussion is a dildo with outstanding performance and remarkable features. This 9.8" HIVEFUN Dildo boasts an astonishing size, suitable for women or couples to indulge in the best anal and G-spot pleasures.
So, let's dive into the details of this toy, covering its specifications, features, and user experience, to provide you with a comprehensive understanding of this product. If our article proves helpful to you, please don't hesitate to show your support. Your encouragement is our greatest motivation for updates.
Rating: (4.8/5)
Specification
Price: $36.99
Color: brown
Size: 9.8 x 4.72 x 3.14 inches
Weight: 1.5 lbs.
Waterproof grade: waterproof
User Experience
I enjoy exploring different sexual toys; they make me feel like I'm with different partners. Honestly, it had become challenging to find a sex toy that could truly arouse my interest until my good friend presented me with the 9.8" HIVEFUN Dildo. I was captivated by it. It feels incredibly real, to the point that I found myself indulging in it every day for a while. The easy-to-insert head felt remarkably soft against my delicate lips. I particularly love the added heating feature, making solo play even more comfortable. The suction cup at the base is a fantastic addition; I experimented with attaching it to the bathroom wall for some thrilling rear-entry pleasure. I must say, it's quite fun!
Its thrusting and vibration modes are just right for me, not too intense yet far from dull. Like other dildos, it can precisely stimulate my G-spot, satisfying my needs when I'm not in the mood for much movement. Additionally, I tried using it anally, and while it took some getting used to, I ended up loving the sensation. I highly recommend it to any woman in need of stimulation.
Features
This is unquestionably a valuable addition to your collection. Whether you're a seasoned sex toy user or a beginner, you'll find unparalleled satisfaction in this lifelike silicone dildo, featuring realistic texture, raised veins, and vibrating balls for added pleasure. Its 9.8-inch size provides optimal fit and maximum comfort. This adult toy offers 3 thrusting modes and 5 vibration modes, ensuring endless enjoyment. Whether you prefer solo play or mixed sensations, this versatile toy delivers maximum satisfaction. Furthermore, it comes with a user-friendly remote control for added convenience. Its exceptional waterproofing takes your pleasure to new heights. Now, get ready to experience endless climaxes!
FAQ
Thanks to its outstanding waterproofing, you can clean it directly with water. If hygiene is a concern, we recommend using mild soap for better results.
Can I use it for anal play?
Absolutely! Whether used traditionally or inserted anally, you can enjoy exceptional pleasure. However, due to its substantial size, we suggest beginners use plenty of lubrication to prevent discomfort.
This dildo is USB rechargeable, making it easy to use without the need for battery replacements.
Advantages
Realistic vibrating dildo
3 thrusting modes and 5 vibration modes
Smooth tapered tip and subtly textured veined shaft
Includes a heating function
Strong suction cup
Disadvantages
Not beginner-friendly due to its large size
Summary
That covers all you need to know about the 9.8" HIVEFUN Dildo. If you're interested in this toy, check out our homepage for other excellent similar options; you can click the subscribe button below for more. If you have any needs in this area or for full-body dolls, we're here to assist you. Feel free to reach out to us anytime; we look forward to your inquiries.
Lastly, thank you for reading. If you want to explore more content related to adult products, feel free to follow us. We'll keep updating with more content. Thanks for your support!