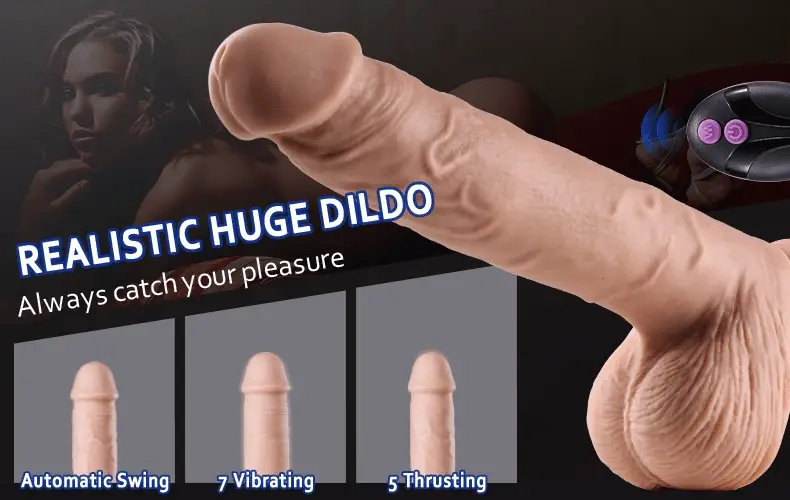 KING 10.24 Inch 5 Telescoping 7 Vibrating Swing Huge Dildo Description:
Experience the ultimate pleasure with KING, the 10.24-inch dildo that will leave you wanting more, is perfect for those seeking ultra pleasurable play.
It features 5 stretching modes and 7 vibration patterns, ensuring maximum satisfaction whether you're a beginner or an experienced player. Additionally, the soft silicone material adapts to anyone, providing unimaginable comfort.
Moreover, the lifelike replica of a glans, beautifully sculpted veins, and bulbous texture offer an incredibly fulfilling and realistic sensation that will leave you breathless. You can also enjoy hands-free pleasure with the suction cup base and remote control, or engage in strap-on play, embracing the ultimate pleasure it brings.
Features:
7.87 inches of insertable length and 1.57″ diameter for sex lovers seeking ultra pleasurable play
With 5 Telescoping, 7 vibrating, and automatic swing modes to tease your sweet spot
Soft silicone material can satisfy any angle of 0-45 degrees for sex games
Vividly simulated glans, nicely shaped veins, and softballs for super-fulfilling lifelike pleasure
Use the suction-cup base and remote control for hands-free fun or strap-on play
Waterproof and USB rechargeable
Specification:
Size: 10.24*1.57"
Insertable Length:7.87"
Weight: 645g
How to use
Step 1
At first, secure it to the floor and make sure it doesn't fall off.
Step 2
Then, apply enough lubricant to make it more silky smooth.
Step 3
Finally, it's screaming time.
FAQ
Is this toy suitable for beginners?
Of course, whether you are experienced or not, it can satisfy you.
What material is this toy made of?
It is made of soft silicone material, so it can bring a more comfortable experience.
How does it perform in a two-player game?
It is the perfect toy whether you use it alone or with your partner.