I can confidently say that no one is more masculine than Ares, and no dildo is more pleasurable than the ARES 7 Vibrating Thrusting Curved Dildo With Suction Cup. With its excellent performance and powerful motor, it has earned unanimous praise from us. The most important thing is that whether you are a beginner or an experienced user, it can bring you a different experience.
In the following sections, we will provide a detailed introduction to its specifications, features, and use feeling, allowing you to have a comprehensive understanding of it. If our article is helpful to you, please do not hesitate to follow us. Your support is our greatest motivation for updates.
Rating: (4.8/5)
Specification
Price: $71.81
Material: silicone
Size: 8*6.03 inches
Insertable length: 6 inches
Color: Nude
Weight: 0.88 lbs
Use Feeling
This was a gift I prepared for my wife. When she saw the ARES 7 Vibrating Thrusting Curved Dildo With Suction Cup, her expression was so surprised, and we started to try it that night.
We fixed it on the glass, adjusted it to our preferred angle, and then gently touched her clitoris with the head. "It's so powerful, I can feel the heat," my wife excitedly said to me. I could also feel her desire taking over reason. As the dildo slowly entered her vagina, I turned on the vibration and thrusting, and the intense stimulation made her start to moan.
The lascivious sound echoed in the bedroom, which also made me excited. It was like a game for three people, and we reached orgasm together under double stimulation.
Features
This amazing product has an appearance and touch that are true to life. With a skin-like texture and 5.9 inches of insertable length, it is perfect for those seeking a more realistic experience.
With its 15° curve, this dildo can directly stimulate your G-spot. Its powerful motor can produce 7 vibration modes and thrusting modes, allowing you to customize your experience and explore new sensations. Plus, with the one-button acceleration function, you can reach heaven with just one click!
But that's not all. This dildo also has an adjustable insertion angle of up to 180°, thanks to its installable suction cup, making it perfect for use in various positions and settings. With its remote control, you can explore more sexy possibilities and take your pleasure to a new level.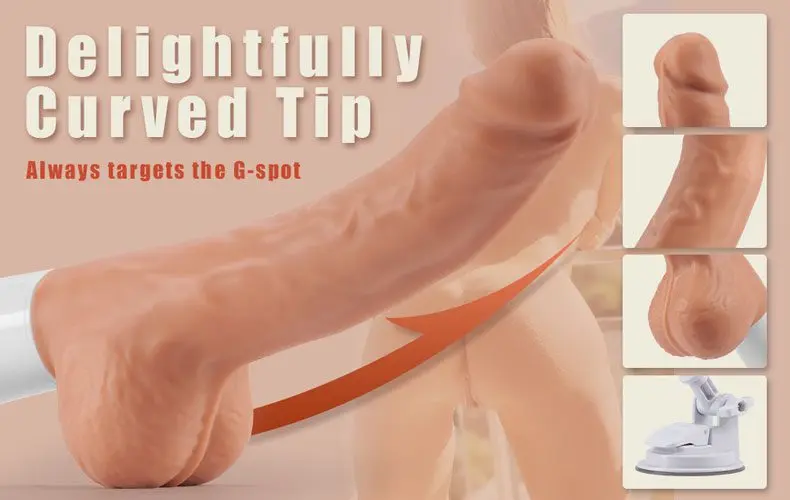 Advantages
Curved shape for direct stimulation of your G-spot
Realistic shape design, thick size
7 vibration modes, and telescopic modes are generated by powerful motors.
One-click acceleration feature to get you straight to heaven.
The insertion angle can be adjusted by 180 degrees with the mountable suction cups.
Explore more sexy possibilities with remote control
Concealed Packaging
Disadvantages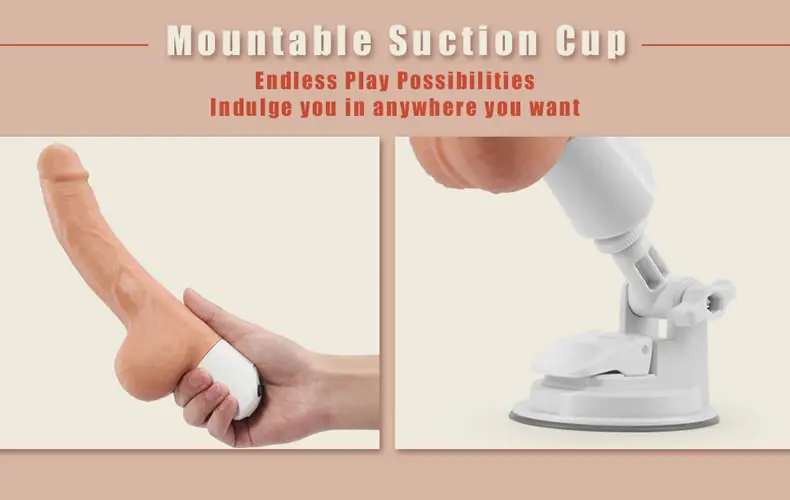 Summary
No matter if you want to explore new sensations, take your love life to a new level, or simply indulge in some well-deserved pleasure, this amazing product has everything you need to experience ultimate satisfaction. It also works great for solo play. It can be firmly attached to any surface, from shower walls to headboards to floors, allowing you to enjoy the pleasure of different positions.
Thank you for reading and supporting us! If you want to learn more about erotic products, please follow us. We will continue to update with more content.