Among a plethora of sex toys, we have a special affection for anal toys. Unlike a Fleshlight that provides the most direct pleasure for your penis, anal toys bring you to climax by massaging the prostate. The 8-Mode Telescoping Vibration Anal Vibrator Butt Plug is just such a product. With outstanding performance and responsive remote control, it provides you with the most comfortable experience. What are you waiting for? Come and try it out!
In the following, we will provide you with a detailed introduction to this product, including its specifications, features, and use feeling, so that you can have a more comprehensive understanding of it. If our article is helpful to you, please don't hesitate to give us a follow. Your support is our biggest motivation for updates.
Rating: (4.7/5)
Specification
Price: $50.37
Material: ABS + silicone
Size: 5.5 x 3.9 x 1.6″
Insertable length: 4.9″
Weight: 0.5 lbs
Charging mode: USB charging
Noise: <50db
Use Feeling
When I received it, I found it even more compact than I had imagined, and I liked this design because it allowed me to take it anywhere without worrying about being discovered. The smooth surface gives me a very comfortable feeling and it can be inserted easily. Yes! As the ribbed massager squeezed the sensitive inner walls of my body, I shuddered uncontrollably and the intense stimulation left me wanting more. It was like a big, hard penis with a fat tip. With a powerful motor, it hit my hole over and over again, never tiring. And, it was able to stimulate my balls and ass at the same time. This allows me to experience a mixed orgasm that you can't breathe for.
It is worth mentioning that the remote control application makes the telescoping and vibrating functions easy to use respectively, and I can effortlessly customize the speed I want to have maximum fun.
After this, I also experienced this toy with my wife. I have to say that it turned us on. My wife also raved about it when she tried it. As a great anal toy for sex, it is definitely up to the task and very comfortable.
Features
This 8-Mode Telescoping Vibration Anal Vibrator Butt Plug is compact and lightweight in design, weighing only 0.5 pounds, making it convenient to place anywhere. More importantly, it is covered with ribbed and smooth ABS + silicone, providing extra stimulation and easy insertion for maximum satisfaction.
At the same time, the textured round head and curved shaft design make it more stimulating. It can massage your P-spot and provide you with powerful and satisfying stimulation. Plus, this toy offers 8 different vibration and thrust modes that can be used simultaneously or separately for an ultimate experience.
Even if you play in the bathtub or shower, its waterproof design allows you to fully unleash your nature. Whether used alone or with a partner, this anal vibrator will bring you a surprising and stimulating journey.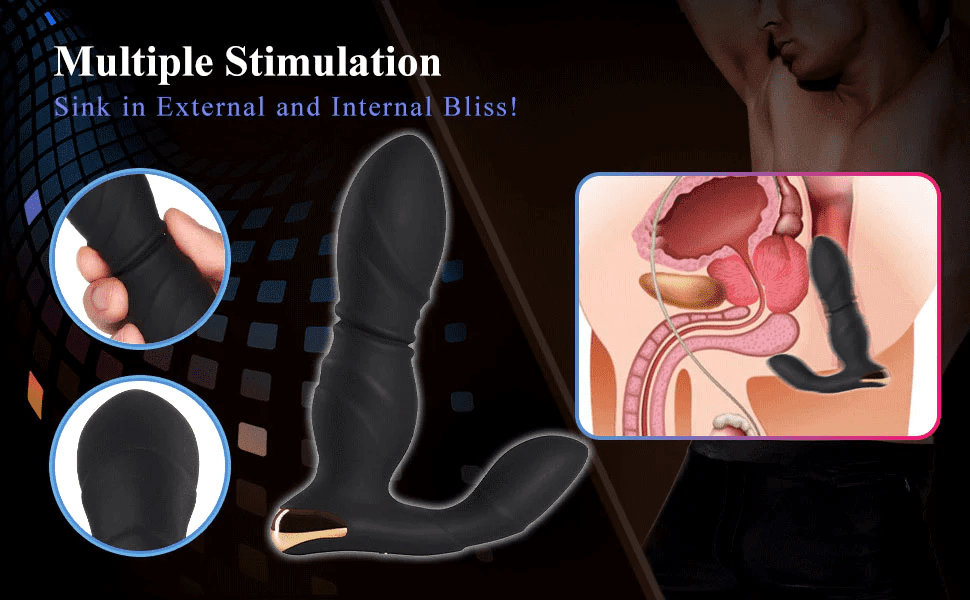 Advantages
8 high-frequency vibration modes provide different types of stimulation and pleasure
Wave axis dual motor stimulates both P-spot and testicles
The remote control is suitable for single or couples to play
Medical silicone for your peace of mind
IPX-6 waterproof & USB rechargeable
Concealed Packaging
Disadvantages
Summary
Overall, this is a beginner-friendly anal toy that provides enough stimulation while also being comfortable. Even users without experience can give it a try. Of course, sufficient lubrication is needed before use. So don't settle for mediocre pleasure, experience the ultimate anal pleasure.
Finally, thank you for reading and supporting us! If you still want to know more about erotic products, welcome to follow us, we will continue to update more content.