We have been searching for a toy that can serve as both a vibrating penis ring and a mini G-spot massager. Fortunately, we have found it. The IMO Full Silicone Vibrating Cock Ring is incredibly versatile. Its impressive performance allows it to meet the needs of men and couples, providing users with an excellent teasing experience.
Next, we will provide you with a detailed introduction to this product, including its specifications, features, and use feeling, allowing you to have a comprehensive understanding of it. If our article is helpful to you, please don't hesitate to show your support. Your support is our greatest motivation for updates.
Rating: (4.8/5)
Specification
Price: $34.96
Material: full silicone
Color: burgundy
Size: 3.94 inches (L)*1.65 inches (W)*1.18 inches (H)
Weight: 5.61 oz
Use time: more than 2 hours
Use Feeling
This was a Valentine's Day gift from my girlfriend. Honestly, I feel like this cock ring is more suitable for women than men. But I have to admit that I mainly use it for self-pleasure. Its performance in the couple's play has pleasantly surprised me.
The 1.25-inch silicone ring stretches easily around my testicles and penis. The soft touch makes it very comfortable. Before getting started, I tried using it for some teasing work. It turned out to be more effective than I had imagined. It can focus the vibrations on the clitoris, nipples, and other sensitive areas. From Daphne's expression, I could tell she was getting excited.
So we started having wild sex. You see, sticking to one position for too long can make things feel monotonous. Luckily, it has 7 different modes for me to choose from. I enjoy switching between modes during intercourse, and Daphne screams along with it. This toy does the trick, and we both feel intimately connected while using it. It's great to have it involved in our physical interaction and still stay focused on each other.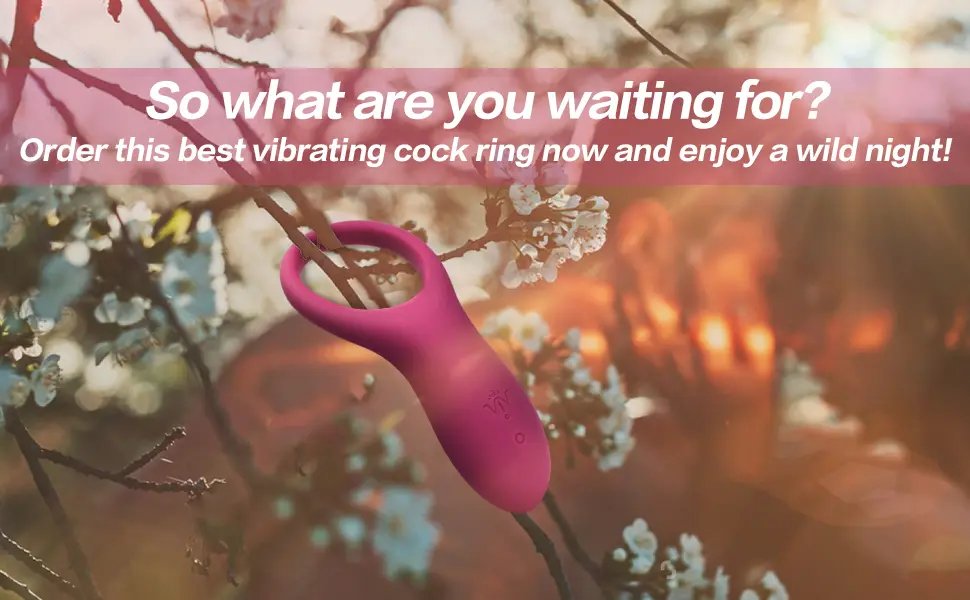 Features
The IMO Full Silicone Vibrating Cock Ring is a satisfying sex toy. It's made of soft and comfortable silicone material, which gives it amazing flexibility. In other words, it can stretch enough to accommodate any size. Its compact design means it's convenient to carry, allowing you to experience its pleasure anytime, anywhere. And with its quiet design, you don't have to worry about being discovered; just enjoy it to the fullest.
Not only that, this toy boasts a powerful motor with 7-speed modes, allowing you to experience various levels of sexual pleasure. Its versatility means it can be used not only as a vibrating cock ring but also as a mini G-spot massager, perfect for couples' teasing. It's like a bond connecting men and women, allowing it to take you on a journey of limitless fun and sexual pleasure in the bedroom.
FAQ
Can it stretch enough to accommodate the scrotum?
Yes, it can stretch long enough to accommodate it. Made of silicone, it can stretch to fit different sizes.
You can use the vibrating part to stimulate your nipples or clitoris for solo play. For couples play, your partner can wear it on his penis and the vibrating part will simultaneously stimulate your clitoris.
You can clean the ring under running water, but do not soak it for a long time. You can wipe it off with a tissue. It's important to note that you should not clean it with boiling water. If it's too hot, the silicone may deform.
Advantages
Made of full silicone material with amazing flexibility
Versatile, suitable for multiplayer games
Runs quietly, protecting your privacy
Powerful motor with 7-speed modes, providing different experiences
Quick charging and long-lasting use for continuous stimulation
Disadvantages
Summary
This is a toy that can surprise you, both in terms of performance and in terms of appearance. Moreover, we also have toys similar to it in our list, you can click the subscribe button below to check it out. If you need it, you can also send us a private message. We look forward to your consultation.
Finally, thanks for your reading. If you still want to know more about erotic products, welcome to follow us, we will continue to update more content. Thanks for your support!