Why Choose Abby – Mini Clit Licking Vibrator Tongue Sex Toy?
Experience the ultimate pleasure of the mini clitoral licking vibrator tongue sex toy. At first, with its elegant and discreet design, it's like a work of art made of high-quality and harmless silicone material, making it safe and comfortable to use.
secondly, abby offers nine dynamic licking modes that you can choose according to your needs, taking your pleasure to new heights. Its powerful motor also makes it capable of delivering more intense stimulation for a mind-blowing orgasmic experience.
In addition, terms of design, it's small enough and weighs only 0.13 pounds, making it easy to carry and perfect for traveling. The waterproof design unlocks more entertainment options, and with just 1.5 hours of charging time, you can enjoy 2 hours of fun time.
So abby is perfect for those who want to enjoy ultimate pleasure anytime, anywhere.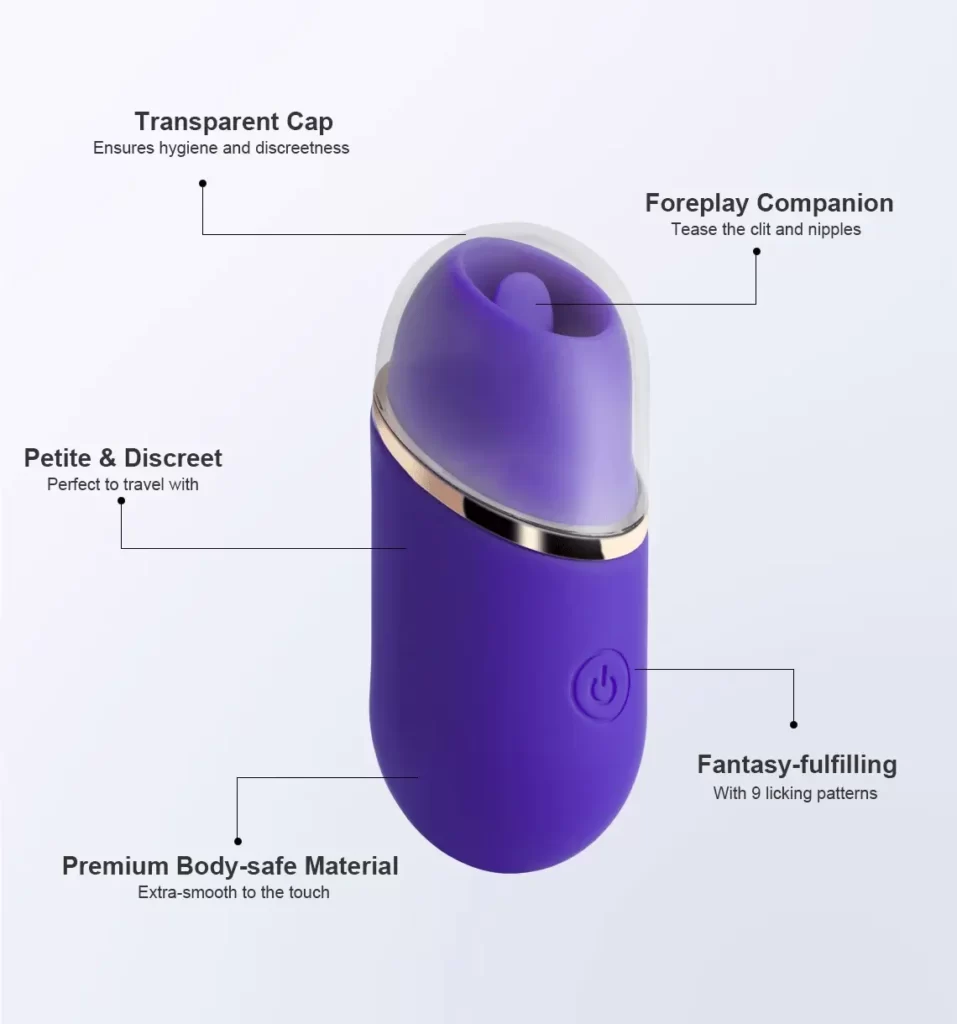 Key Features
A fashion sex toy elegant in look like an artwork.
Small and discreet, perfect for traveling.
Made from high-quality body-safe material.
Play with 9 dynamic licking patterns.
Comes with a transparent cap, adds to aesthetics, and ensures hygiene.
Waterproof design, hassle-free cleanup, and infinite fun in the shower.
Specifications
 Material: Body-Safe Silicone+ABS
 Size: 2.27″*1.57″*1.26″
 Weight: 0.13 LB
 Charging time: 1.5 Hours
 Playing time: 2 Hours
 Battery Type: Li-ion Rechargeable 
 Waterproof: IPX6
How To Use
Step 1
Firstly, choose an environment where you are comfortable and relax.
Step 2
Then, turn on the switch and place it in your private area.
Step 3
At last, choose the best mode and start enjoying it.
FAQ
How long does this toy last?
It has a powerful battery, so you can enjoy about 2 hours of fun.
What is the size of this toy?
Its size is 2.27″*1.57″*1.26″ so you can store it in your bag.
Is it suitable for beginners?
Of course, whether you are a beginner or an advanced user, it will satisfy you.