If you're still struggling with what makes a good vibrator, I'm here to tell you what it is. For beginners, comfort is the most important thing. And the TORNADO 10 Vibration 5 Rotation Wrapping Masturbation Cup is just the right choice for those who are new to this. It's not too stimulating, yet provides a realistic experience, designed to give you the most comfortable orgasm experience.
Next, we will introduce the product's specifications, features, and use feeling in detail, so that you can have a more comprehensive understanding of this product. If our article is helpful to you, please don't hesitate to follow us. Your support is our biggest motivation for updating.
Rating: (4.7/5)
Specification
Price: $49.59
Material: ABS + silicone
Size: 2.17*2.5*9.05″ inches
Insertion length: 2.99 inches
Color: Black
Weight: 0.9 lbs
Use Feeling
I've tried many different types of vibrating blowjob masturbators, each with its unique features. But the TORNADO 10 Vibration 5 Rotation Wrapping Masturbation Cup has provided me with an incredible experience.
Firstly, its design includes a visually transparent sleeve, which allows me to fully observe and enjoy the pleasure of my penis entering the cup. For those who like to watch during sex, this is a great design. The sexy mouth-shaped entrance makes me feel excited, and it can comfortably wrap around my entire glans and penis. This feeling is wonderful, just like real oral sex. The stretchy and flexible sleeve design allows me to squeeze or twist it freely until I find the most comfortable feeling.
I started trying out different vibration modes, which was fun. Switching it up after getting used to one frequency (5 rotations and 10 vibrations) kept things from getting boring.
Finally, it's worth mentioning that it's easy to clean after releasing all of your passion. The detachable design takes care of beginners in this regard.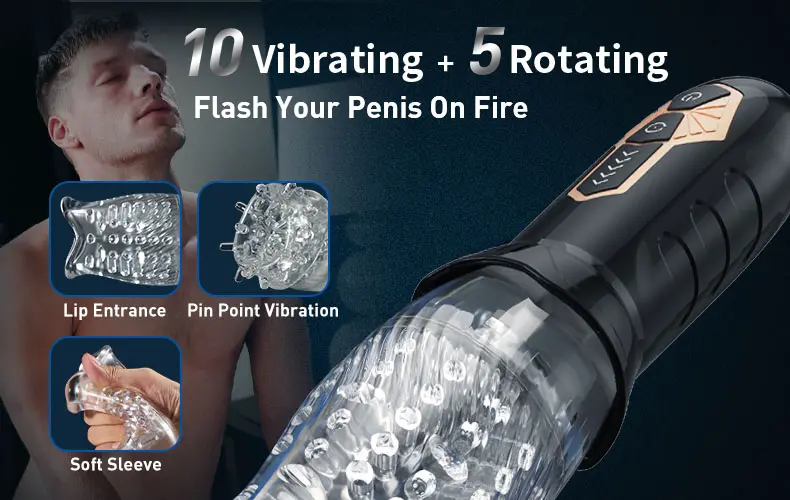 Features
This blowjob masturbator has a transparent sleeve that allows you to see every detail of it in operation. To simulate oral sex, its realistic entrance, and the elongated sleeve can comfortably wrap around your entire glans and penis. The stretchy and elastic sleeve can be squeezed or twisted until you find the feeling that suits you.
In addition, it contains 106 kinds of intense stimulation, and the sleeve will move and rub against your sensitive areas, allowing you to reach explosive orgasms. The detachable design makes cleaning easy. Simply rinse and wipe it, then store it in the included box to keep it clean and protect your health. Equipped with 5 rotations and 10 vibrations, you can find your favorite mode and experience ultimate sexual pleasure.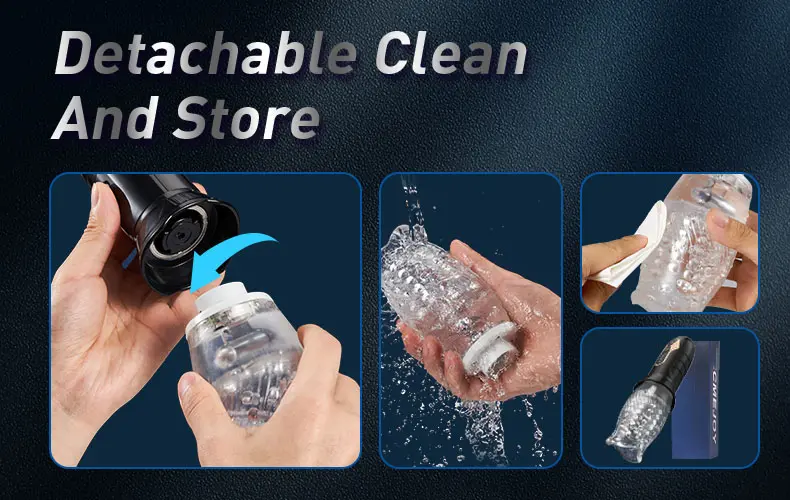 Advantages
Inheriting all the benefits of the masturbation cup, the new transparent cover lets you see how your penis is being massaged!
The kneadable sleeves ensure that everyone gets the ideal angle and pressure to please themselves.
5 turns 10 vibrations of equipment, find your beloved.
Metal buttons with indicator strips are clearer and easier to operate.
Discreet packaging
Easy to clean
Disadvantages
The transparent silicone material is a little sticky
Video
Summary
We are impressed with the quality of this product. So far, I've tried almost all of the features, and they happen to be my favorites. When you get used to all kinds of stimulation and novelty blowjob masturbators, this toy seems to bring you back to the initial pleasure. It's a great introductory tool, especially for beginners.
Finally, thank you for reading and supporting us! If you want to learn more about erotic products, please follow us. We will continue to update with more content.