Are you still upset about not having a partner to give you oral sex? Don't worry, the Tongue Demon – Heating Multi-function Tongue Vibrator is designed for this purpose. It's made to help users feel the warmth of a tongue and experience the ultimate pleasure. Even if you have a partner, you can use it together. Or you can give them full control to manipulate as you lie back and enjoy.
In the following sections, we'll provide you with detailed information about its specifications, features, and use feeling, so you can have a more comprehensive understanding of this product. If our article is helpful to you, please don't hesitate to follow us. Your support is our greatest motivation for updates.
Rating: (4.8/5)
Specification
Price: $58.99
Material: ABS, silicone
Size: 3.78″*3.78″*10.6″
Weight: 1.82 lbs
Noise index: <75db
Charging time: 150 minutes
Use time: 60 minutes
Rechargeable: USB Type-C charging
Use Feeling
When I first saw this toy, I was attracted by its amazing tongue at one end. So I bought it without hesitation and gave it to my wife. It proved that it did not disappoint me.
Unlike the dildo, it is topped with a simulated tongue design that is very soft. It also has granules on it so that it can bring maximum stimulation. The folds in the middle, on the other hand, filled the pussy nicely. When I activated it, the tongue in front pulsated like crazy. Both my wife and I were beyond excited watching it. I slowly began to use it closer to my pussy and my wife told me that it felt amazing, like a real person's tongue, but more exciting in frequency.
However, we both felt that this was not enough. So I turned on the heating function, turned up the frequency, and slowly thrust into it. The warmth of the tongue brought on even more lustful moans. Hell, I was even jealous of it at that moment. Because my wife and I never had such an enjoyable look on her face when we made love!
We played with it in bed, moved to the living room, and finally ended the game in the bathtub. My wife was very satisfied, and I ejaculated inside her. We were both too tired to move, but the happy images were still fresh in our minds. It took us a while to come back to our senses.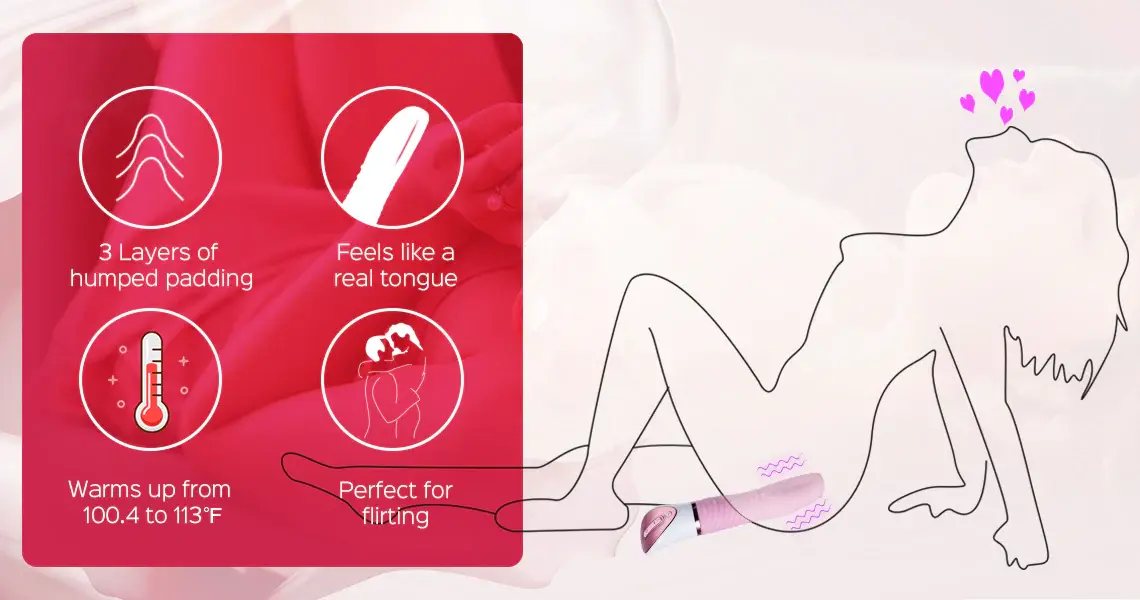 Features
This Tongue Demon – Heating Multi-function Tongue Vibrator replicates the look and feel of a real tongue, even down to the material and temperature. But it's powerful and versatile, making it no worse than a real tongue. It also features the most accurate and realistic textures for realistic sensory stimulation for the best sexual experience. In addition to being amazingly fun, it brings you a sense of realism and immersion.
As if that wasn't enough, this toy also enhances realism with its heating feature. The heating function ranges from 100.4 to 113 Fahrenheit degrees, providing a warm touch for an even better experience. With 10 different vibration modes, it provides exciting clitoral, nipple, and G-spot stimulation. It is the perfect toy for foreplay with a partner or solo play, great for teasing, foreplay, and adding spice to your sex life!
Advantages
Realistic tongue design
Simulated textures
With heating function
10 tapping patterns
Discreet packaging
Waterproof
Disadvantages
Video
Summary
This Tongue Demon Sex Toy is so thirsty that it can't wait to lick all your naughty bits! It does it better than the real thing! The realistic materials and tongue are designed to provide the most realistic oral sex pleasure and satisfy every craving. Undoubtedly, it will be a godsend for your desire to experience wonderful oral sex!
Finally, thank you for your reading and support. If you still want to know more about erotic products, welcome to follow us. We will continue to update more content.