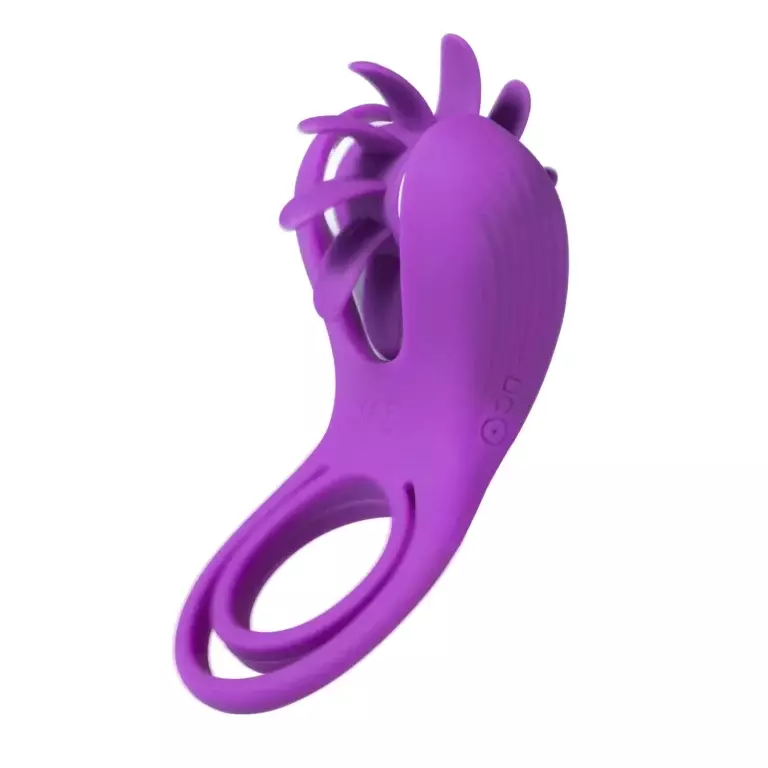 Have you ever wished to experience the pleasure of having your clitoris licked while enjoying intimate moments with your partner? Then you must not miss the Roxy – Licking Sex Toy & Vibrating Dual Penis Ring. With its unique and crazy design, paired with outstanding performance, it will be the perfect sex partner for you. Open this dual-use penis ring and explore all its pleasures with your partner, experiencing intense pleasure and satisfaction.
Next, we will introduce you to this product in detail from its specifications, features, and use feeling, so that you can have a more comprehensive understanding of it. If our article is helpful to you, please don't hesitate to follow us. Your support is our greatest motivation for updates.
Rating: (4.8/5)
Specification
Price: $50.00
Material: ABS + silicone
Color: Purple
Size: 4.25″*2.05″*2.01″
Weight: 0.12 lbs
Noise level: ≤40 DB
Waterproof: IPX7
Battery type: Lithium-ion rechargeable battery
Charging time: 1.5 hours
Use time: 1.5 hours
Use Feeling
Honestly, I was shocked by the wild design of this toy when I first saw it. This is not a toy for self-pleasure. On the contrary, it can fully unleash its maximum value when used with a partner.
My wife gently put it on my penis, but she wasn't very skilled and it took a lot of time to put it on. But I found it fun like she was flirting with "brother." When we were ready, we began our exclusive happy time.
I gently used it to rub my wife's clitoris, very gently which made her feel comfortable. The low level of vibration was like a massage for us and after a while, we got used to it and started to try more exciting vibration patterns. It was fun and indescribable pleasure came over us and we were lost in it. I could feel the sheets getting soaked and I was at my hardest. We began to let our lusts take over our bodies and our bodies melded together until we both came. It was an unforgettable lovemaking experience.
Features
This Roxy – Licking Sex Toy & Vibrating Dual Penis Ring is different from any other cock ring or couple's ring. The innovative tongue-shaped stimulator ring can not only lick your clitoris but also stimulate your external genitals. When you move, the front wheel rotates, providing enough stimulation for her.
Moreover, with the double-ring design, it provides a safety belt for your penis and scrotum, ensuring long-lasting erection and unforgettable pleasure. These penis rings are durable and very flexible. The rotating part in front is like a real tongue, ensuring maximum comfort and pleasure even during the most intense sex.
The silicone tongue design can also be used on any part of the body, which is very suitable for exploring new sensations and pleasures. 10 different modes can bring you different feelings, and each rotation will bring new fun and stimulation.
Advantages
High-quality silicone material for the most comfortable experience
10 different modes, each with a unique feel
Unique shape design, fun
Quiet operation for total engagement
IPX7 rated waterproof for different scenarios
Discreet packaging, attentive service
Disadvantages
For newcomers to wear a little trouble
Summary
Overall, this is a great toy for couples. It can enhance the relationship between partners and provide greater pleasure for both. If you want to do something special for your wife, trust me, this will be your best choice.
Thank you for reading and supporting us. If you want to learn more about erotic products, please follow us. We will continue to update more content. Thank you for your support!