Sex has always been a topic that affects people but is often difficult to talk about. For most people in today's society, it is the norm that their sexual needs are not being met. And that's exactly why we need these sex toys. If you've never experienced an orgasm before, look no further than the Maude Vibe, the best vibrator for beginners. It will soothe your lonely heart and provide you with the best masturbation experience.
Next, we will provide a detailed introduction to this product, including its specifications, features, and use feeling, so that you can have a more comprehensive understanding of it. If our article is helpful to you, please don't hesitate to follow us. Your support is our greatest motivation for updates.
Rating: (4.8/5)
Specification
Price: $49.00
Color: Grey
Material: 100% platinum grade silicone
Diameter: 39mm
Length: 124mm
Battery capacity: 400mah
Running time: 1-1.5 hours (maximum speed) 2-2.5 hours (minimum speed)
Charging time: 1.5-2 hours Speed: 6500-7500r/min
Use Feeling
Honestly, the most attractive part of this toy is its cute shape design. Of course, as a vibrator, this is not enough.
I turned it on in the dead of night and it was easy to set up and didn't require too much manipulation, which is perfect for beginners. I applied enough lubricant and slowly inserted it into the little hole. The soft touch gave me a comfortable feeling, and the conical design can be inserted well. The primary vibration is not too intense, which is fully considered for beginners. When it was deeply inserted, I could feel it jumping and stimulating my G spot inside my body.
At, last I enjoyed the experience very much. After I often use those intense stimulators, I can play with this little toy for a whole day! This is definitely the best vibrator for beginners that I have ever used.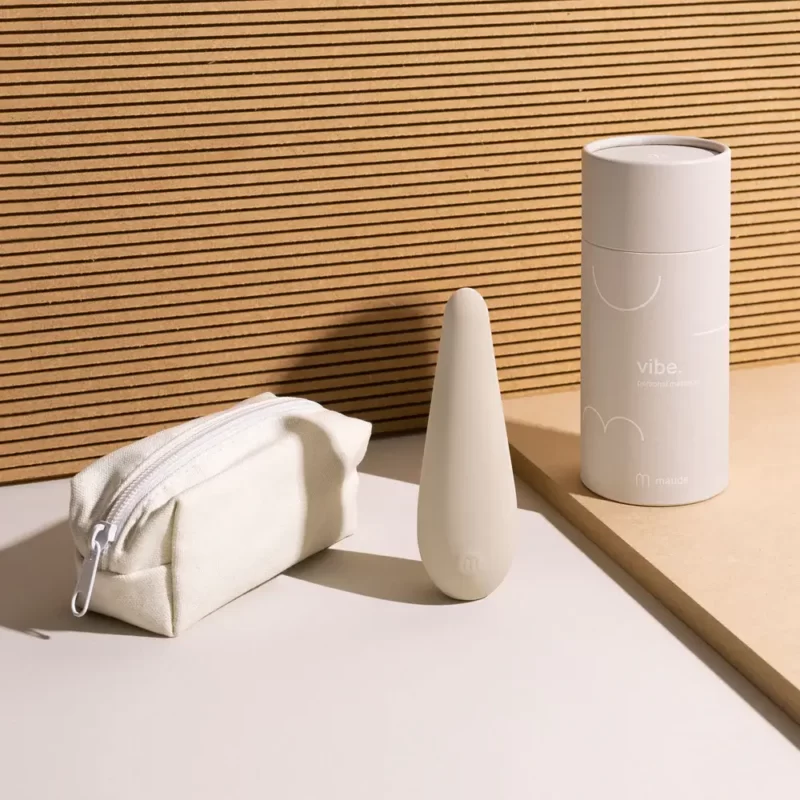 Features
Maude's tapered shape is one of its best-selling styles, and this toy is designed with that classic shape. The platinum-grade silicone material makes it even more silky smooth and has a comfortable feel. Especially for beginners, it will not feel uncomfortable and brings enough space to adapt when inserting the clitoris.
Thanks to its elegant tapered shape and soft earth tones like grey, green, and charcoal. This vibrator has a cute appearance that doesn't make it look like a vibrator! The small design allows you to take it anywhere without being noticed, so you can enjoy its caress anytime, anywhere.
Designed for beginners, it has simple modes and vibration settings. It only has three intensity levels, but to be honest, it's more than enough. Precise stimulation will bring you to orgasmic bliss. In addition, with a wait time of only 1.5 to 2 hours, you can enjoy two hours of comfort that will keep you up all night.
FAQs
How often should I charge my Maude Vibe?
We recommend that you charge your vibrator after each use to extend its life.
Can I use Maude Vibe with lubricant?
We recommend using Maude Vibe with Maude Shine organic lubricant or any other water-based lubricant of your choice. Avoid using it with silicone or oil-based lubricants as it will degrade the silicone.
Is Maude Vibe waterproof?
Of course, it is waterproof and can be used in the shower and bathtub. The vibe should not be completely submerged.
Advantages
Soft touch
Easy to use
3 vibration modes
USB charging
Waterproof
Up to 2.5 hours of usage time
Disadvantages
Minimum vibration setting
Summary
This is a vibrator designed for beginners. Especially for those inexperienced people, the appropriate stimulation and quiet experience will bring an unprecedented experience.
Finally, thank you for your reading and support. If you want to know more about adult products, please follow us and we will continue to update more content. Thank you for your support!