If you were to ask me which style of sex toy has been the hottest in recent years, I would without hesitation tell you, the rabbit vibrator! With its cute styling design and excellent performance, Lelo Soraya Wave has managed to gain a lot of love from users. This is a luxury stimulation vibrator designed for women, using the new WaveMotion technology, which can be more intense and more realistic stimulation of the G-spot.
Next, we will introduce this product in detail from its specifications, features, and use feeling, so that you can have a more comprehensive understanding of this product. If our article has helped you, please do not hesitate to follow us. Your support is our greatest motivation for updating more content.
Rating: (4.8/5)
Specification
Price: $207.00
Material: human safety silicone, ABS plastic
Size: 8.58 x 2.83 x 1.81 inches
Insertion length: 4.3 inches
Weight: 0.40 lbs
Running time: 2 hours
Charging time: 2 hours
Noise level: 50 decibels
Use Feeling
When I received this toy, I couldn't wait to open it. The cute rabbit shape made me love it so much that I was excited to try it out that night. I wanted to see how different it was compared to my other toys. When I turned it on, I was surprised by the strong vibration. I could feel the powerful force contained within it. The dual motor design allows me to focus on my clitoris or my G-spot or both. It was fantastic and I loved it.
But what shocked me was the rolling motion of the G-spot stimulator. When it moved back and forth, it felt like a gentle finger stroking my G-spot. The sensation was very intense and more motivating than my previous toy, which was incredibly pleasurable and had me reach a high in no time. I loved the different vibration modes that gave me different sensations, and I tried every mode until I found the one that I liked the most. That night, I played with it all night long and had an amazing time.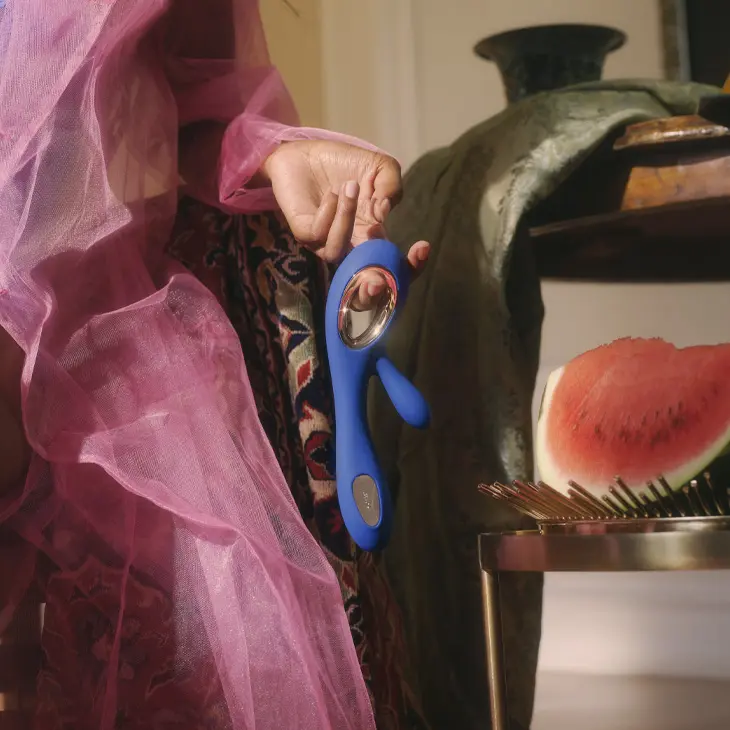 Features
As a high-end vibrator, the Soraya Wave is made of body-safe silicone that feels very soft and comfortable. The cute rabbit design provides a unique and novel experience. The dual independent motor design allows you to control one motor for your clitoris and the other for your G-spot. With eight pleasurable settings, from teasing hums to satisfying vibrations, you can customize it according to your preferences and enjoy a unique experience.
Moreover, it uses a brand new WaveMotion technology that has a rolling motion feature, mimicking the touch of fingers or a lover's movements. This provides a more realistic and intense sensation than traditional vibrators. At the same time, this toy is also waterproof and perfect for use in the bathtub or shower. In other words, you can not only unlock more sexual scenarios, but it's also more convenient to clean.
FAQs
Is Lelo Soraya Wave waterproof?
Yes, the Lelo Soraya Wave is waterproof and can be used in the bathtub or shower. However, it is important to make sure that the charging port is completely dry before charging.
How to clean Lelo Soraya Wave?
Use warm water and mild soap or sex toy cleaner. Make sure to clean the clitoris and G-spot stimulator thoroughly. Rinse well and dry with a clean cloth or towel.
Can I use Lelo Soraya Wave with my partner?
Yes, the Lelo Soraya Wave can be used with a partner, alone, or during sex. The dual stimulation is designed to stimulate both the clitoris and the G-spot, which can enhance the pleasure of both partners.
Advantages
Cute rabbit shape design
8 vibration modes
Quiet operation
Longer happy hours
Waterproof design, perfect for bathtubs and showers
Disadvantages
Summary
Overall, I am very impressed with the Lelo Soraya Wave. Its powerful vibrations, unique WaveMotion technology, and luxurious design make it a top contender for one of the best G-spot vibrators on the market. If you are looking for a vibrator that provides intense and realistic G-spot stimulation, the Lelo Soraya Wave is worth trying.
Finally, thank you for your reading and support. If you want to learn more about adult toys, please follow us for continuous updates. Thanks for your support!