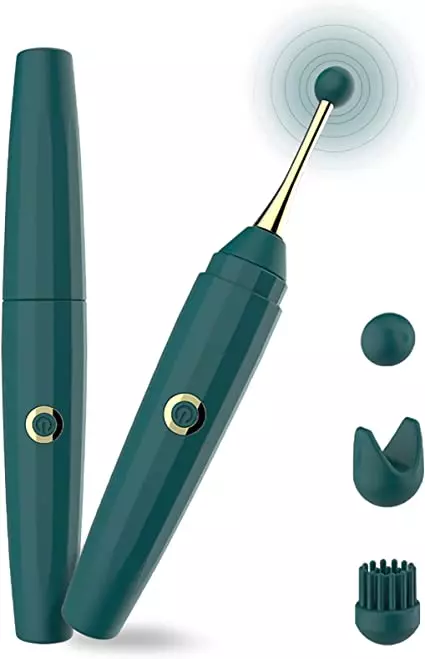 If you've been numb to those ordinary clitoral vibrators for a long time, look no further than the High-Frequency G Spot Clit Vibrator. unlike the magic wand that rubs on the outside of your labia, this toy penetrates deep into your intimate area to bring you more precise stimulation. The high-frequency vibration mode gives it even more fun, allowing you to enjoy a squirting sexual experience anytime, anywhere.
Next, we will provide you with a detailed introduction to this product, including its specifications, features, and use feeling, allowing you to have a more comprehensive understanding. If our article is helpful to you, please do not begrudge your attention. Your support is our greatest motivation to update.
Rating: (4.8/5)
Specification
Price: $25.99
Material: silicone
Color: Green
Size: 6.9 x 1 x 0.43 inches
Weight: 4.16 oz
Use Feeling
It was at my birthday dinner and my best friend told me secretly that she had given me a special gift and asked me to open it after the party. And when I unwrapped it, this was the toy that caught my eye! So I immediately tried it out.
With the push of a button on the switch, it immediately demonstrates its powerful horsepower. The high frequency vibrations made a buzzing sound, but it wasn't loud. I placed it around my clitoris and the intense stimulation made my body start to curl. Yet that was just the beginning. I tried cranking up its vibration level and kept going deeper and deeper into it. When it stimulated my G-spot, I screamed outright. This kind of precise stimulation is something that no other toy can do.
But that wasn't enough. I switched back to the included soft silicone tip, which is what can be applied to the vibrating tip. It brought even more stimulation. I became aroused and moved from the bed to the bathroom. The waterproof design allowed me to experience more scenes, which brought more pleasure. Finally, I came and lay in the tub panting loudly. It was definitely the most unique birthday gift I've ever received.
Features
This powerful High-Frequency G Spot Clit Vibrator has excellent performance and amazing high-frequency vibrations up to 15,000 rpm to give you the full pleasure of masturbation. The pointed vibrating tip is designed to provide a comfortable experience and make you more excited. It not only gets inside for precise G-spot massage, but also stimulates your nipples. It comes with 10 different intense vibration patterns to help you trigger an exciting squirting sexual experience in 90 seconds. Also included are 2 replaceable soft silicone tips that can be applied to the vibrating tip for more comfortable stimulation.
In the detailing, the compact and convenient size is convenient for you to carry around. Especially for those who travel, it is very convenient. While the powerful battery has 60 minutes of play time, with USB charging design do not worry about charging. And the splash-proof design allows you to clean the toy without worrying about using tap water.
FAQs
Is it suitable for beginners?
Of course, regardless of whether you have experience with similar toys, it can be very good for you.
Can I use it in the shower or bathtub?
This pen vibrator is completely waterproof, so you can wash the vibrator under running water and enjoy it in the shower or tub.
How do I charge and ensure a full charge?
Insert the charging head firmly into the charging port (bottom center point), the indicator light flashes to indicate that the vibrator is charging, the indicator light is always on to indicate that charging is complete. When the product is in charging state (meaning that the charging cable is connected to the power supply), it cannot be turned on.
Advantages
Amazing high frequency vibration experience
10 intense vibration patterns
Splash-proof and ergonomic construction
USB rechargeable
Convenient size
Disadvantages
For newcomers it takes some time to get used to
Summary
Overall, this is an excellent clitoral stimulator. If you are bored with your existing toys and are looking forward to new stimulation, then this is a great toy to meet your needs. Of course, if you want to see more, you can subscribe to us and you will get a new toy.
Finally, thank you for your reading and support. If you still want to know more about erotic products, welcome to follow us. We will keep updating more content. Thanks for your support!