As a popular choice among pleasure toys, rose vibrators have always been loved by people. However, the quality of rose vibrators available in the market varies greatly. Fortunately, we have found the Woman-Rose Sucking Sex Toy among the many options, and it surpasses its predecessors in terms of performance and functionality.
Next, we will provide you with a detailed introduction to its specifications, features, and use feeling, allowing you to have a comprehensive understanding of this product. If our article has been helpful to you, please consider following us. Your support is our greatest motivation for providing updates.
Rating: (4.8/5)
Specification
Price: $29.99
Material: silicone
Color: Rose
Dimensions: 7.28 x 4.33 x 2.83 inches
Weight: 8.99 oz
Use Feeling
Although I have tried many kinds of rose vibrators, when I have tried this toy, its excellent performance will still blow me away.
I spent some time practicing the controls when I got this Rose toy. It has more features than I thought it would. Thanks to the suction cap setup, I could hold it nicely in my private area and feel the frenzied licking of the flexible tongue. The soft touch made me feel very comfortable. For beginners, the beginner vibration mode is definitely enough. But I expected greater pleasure, so I started to increase the intensity. It went from gentle at the beginning to wild. Yes, that's the feeling I wanted. The crazy feeling of excitement made my brain give up thinking and completely immersed in this extreme pleasure.
But this Rose toy can do so much more than that. I turned on the suction mode, which was even more intense than the pleasure from the licking function. And found the automatic suction function too intense for me, so I adjusted to the intensity I wanted and let go of my hands. I enjoyed the sensation as if it brought me back to my younger days. Finally, with its frantic sucking, I reached the peak of pleasure and came.
Features
Woman-Rose Sucking Sex Toy is a fun toy. It works quickly when used alone and can also serve as a teasing tool during partner play. It is made of body-safe silicone material, ensuring a soft and realistic experience. Additionally, it is IPX7 waterproof, allowing for exploration in the shower and other sexual settings.
In terms of performance, it offers 7 licking modes and 3 suction modes. The 2-in-1 design adds excitement and passion to your sexual life. It helps you indulge in the pleasurable sensations of vacuum suction, creating impressive nipple and clitoral stimulation for women. The upgraded vibrator can engulf your entire external genitalia and provide more pulsations than traditional rose sex toys, stimulating your clitoris, nipples, or anus. The included tongue simulates the pleasure of oral sex, going beyond the usual experience and evoking a sense of conquest for women.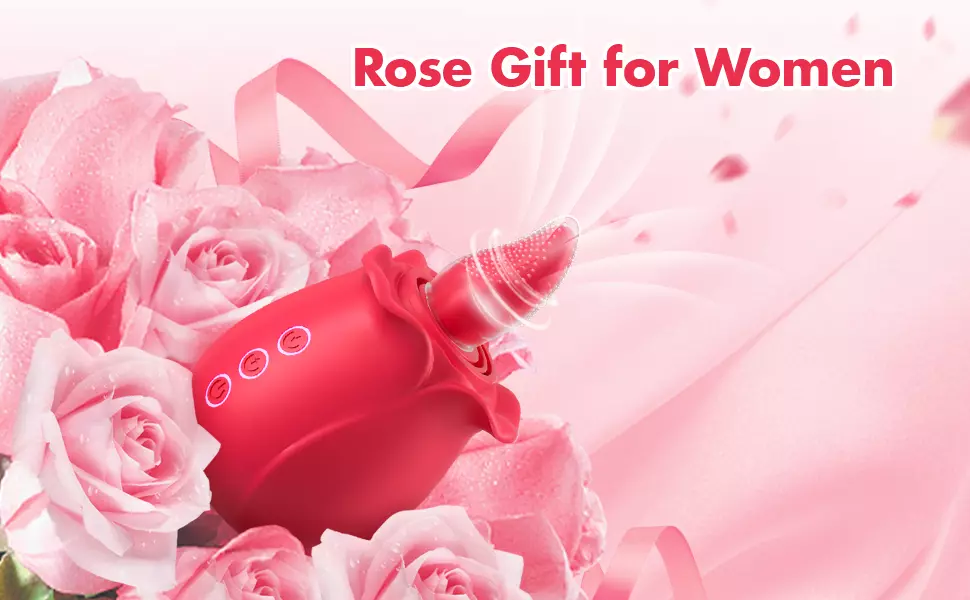 FAQs
Connect the USB data cable to the two magnetic pins of the erotic device. When the power button of the erotic device blinks, it means the erotic device is charging. Once the power button stops flashing, it means it is fully charged. This process takes approximately 2 hours.
Press & hold the button for 2-3 seconds to turn the vibrator on/off. Click it to switch between 7 lick modes. Double-click the top button to turn on the sucking function, the product will automatically suction and then release, again suction, again release……. if you want to stop the suction, you need to double-click the button.
Is the packaging discreet?
Yes. The packaging for this rose suction toy is simple. It comes in an Amazon box with no sensitive labeling on it. From the outside of the box, you cannot tell what is inside.
Advantages
2-in-1 rose sex toy
7 licking modes, 3 suction modes
Waterproof design unlocks more possibilities
Soft tongue for a comfortable experience
Intense suction for the ultimate climax
Disadvantages
Automatic suction function is too strong
Summary
As an upgraded version of the rose toy, it offers a more powerful performance, although the suction may be intense for some. However, it only enhances the experience, and you will increasingly enjoy it. The design options truly provide a delightful experience. I highly recommend this product for anyone looking to intensify their sexual pleasure.
Finally, thank you for your reading and support. If you still want to know more about erotic products, welcome to follow us. We will keep updating more content. Thanks for your support!