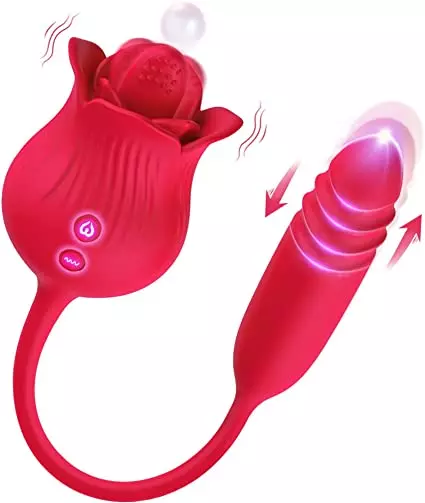 In our previous article, we introduced a powerful Rose Vibrator. However, our pursuit of stimulation never stops. Today, we present to you the Clitoral Tongue Vibrator Sex Toys. While it is also a rose vibrator, it offers a different experience.
Next, we will provide you with a detailed introduction to its specifications, features, and use feeling, allowing you to have a comprehensive understanding of this product. If our article has been helpful to you, please don't hesitate to show your support. Your support is our greatest motivation for further updates.
Rating: (4.8/5)
Specification
Price: $29.99
Material: silicone
Color: Red
Dimensions: 5.75 x 3.66 x 2.36 inches
Weight: 10.48 oz
Use Feeling
Honestly, this product is extraordinary! It outperforms most other toys. With just a little effort, I can achieve mind-blowing orgasmic experiences.
It takes the traditional rose vibrator to the next level by adding a vibrating tongue. I tried inserting it anally, and the textured tip provided a different kind of stimulation. As I turned on the switch, the adjustable design kept stimulating my sensitive areas, making me scream. I enjoy the feeling of being penetrated while also longing for oral pleasure, and this toy fulfills both desires perfectly. The rose part has a flexible tongue with raised bumps on one side, delivering even more intense sensations while licking the clitoris.
Just like that, I was completely conquered by this little thing. Both cavities down there were stuffed to the brim, feeling the different pleasures of the different vibrations. Oh, my God! It was like I was having sex with two men at the same time. I loved it!
Features
This Clitoral Tongue Vibrator Sex Toys not only satisfies your pleasure on the clitoris but can also be inserted. It combines the concept of a dual-ended toy with a rose vibrator, made from body-safe materials to provide a comfortable orgasmic experience. Furthermore, it is fully waterproof and can be easily cleaned. After wiping, it can be recharged. Despite having two vibrators, they do not need to be charged separately. They are connected, making it convenient for storage without the hassle of searching for individual parts.
In terms of performance, the dual-ended design brings you double the pleasure. It also offers ten different licking modes that can be changed independently. The G-spot dildo also has ten retracting speeds that can be adjusted to your desired intensity. As you can imagine, it allows you to enjoy a personalized experience anytime, anywhere.
FAQs
Is it noisy when it's running?
The noise level is around 40 decibels, which is relatively quiet compared to similar products.
How long can the battery last when fully charged?
It provides approximately 1 hour of entertainment time, which is enough to satisfy your desires.
How do I use it?
Press and hold the bottom button for 2 seconds to turn on the vibrator, and short press any button to turn on the tongue or bullet egg. Then you are ready to enjoy yourself.
Advantages
Adorable design
Dual clitoral vibrators and G-spot dildos
With 10 modes and 10 powerful speeds
Easy to clean, recharge, and store
Discreet packaging
Disadvantages
A bit exciting for beginners
Summary
We have collected a lot of interesting toys, but this thing will let you experience a higher level of sex. It will help you go straight to orgasm and experience the ultimate enjoyment. It has a larger side, so don't be surprised if it's bigger than you expect. Because this is for players who are looking for greater excitement.
Finally, thank you for your reading and support. If you still want to know more about erotic products, welcome to follow us. We will keep updating more content. Thanks for your support!