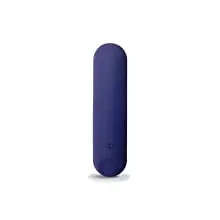 If you're looking for a reliable classic toy, then the plusOne Bullet Vibrator is the perfect choice for you. With its classic bullet head design, this toy may be small in size but packs a powerful punch. It's made from body-safe materials, allowing you to fully insert it for the most comfortable vibrations. With just one button, you can explore different vibration settings.
Next, we'll provide you with a detailed introduction to its specifications, features, and use feeling, giving you a more comprehensive understanding of this product. If our article proves helpful to you, please don't hesitate to show your support. Your support is our greatest motivation for future updates.
Rating: (4.8/5)
Specification
Price: $10.28
Material: silicone
Color: Purple
Dimensions: 3.69 x 2.06 x 6.25 inches
Weight: 3.36 oz
Use Feeling
It is no exaggeration to say that this is the first toy in my collection cabinet. I chose it on the recommendation of a friend, and from then on opened the door to my new world.
The small form factor means you can take it with you and not worry about being noticed. I always take it with me when I travel for business or pleasure. That way I can enjoy the plusOne Bullet Vibrator whenever and wherever I want. I generally use it as a foreplay tool. The primary vibrations are very comfortable, and there is a tingling sensation when rubbing at the clitoris. It's worth noting that it's not too loud when it's running and the only sound I can hear is my moans.
Once my clitoris is sufficiently lubricated, I gradually increase the intensity and try inserting it. When my tight opening completely wraps around it, it's the moment of ultimate bliss. Feeling it vibrates continuously inside my vagina while building up to the climax is an incredible experience.
Features
As a classic bullet vibrator, its small and discreet size is its biggest feature. With dimensions of 3.69 x 2.06 x 6.25 inches, you can easily slip it into your handbag, making it perfect for travel. It operates quietly, ensuring that no one will notice. In terms of performance, it offers 10 different vibration settings, making it beginner-friendly. Its soft texture provides maximum comfort. If that's not enough, you can insert it for precise stimulation.
Thanks to its fully waterproof design, you can enjoy it fully in the bath or shower, and it's also easy to clean. It charges quickly via USB, and the rechargeable lithium-ion battery provides extended playtime of up to 2 hours.
FAQs
Is it discreetly packaged?
Yes, there will be no identifying marks on the packaging to indicate what is being delivered, and you can be completely confident.
Absolutely, it has excellent waterproof capabilities, and you can even fully submerge it.
Is it suitable for beginners?
It is friendly for people who are new to vibrating toys. Of course, if you expect to find a toy that best suits your needs, feel free to contact us. We will bring you the most accurate choice.
Advantages
Suitable for beginners
Compact design for easy portability
Made from comfortable and body-safe materials, ensuring worry-free use
Fully waterproof design, making it easy to clean
Provides up to 2 hours of playtime
Disadvantages
Not for those who seek higher excitement
Summary
Overall, this toy is designed with beginners in mind. Both its design and performance show its user-friendliness for newcomers. If you're looking to experience a higher level of pleasure, please feel free to contact us. We have a variety of toys available on our website that cater to your desires. Alternatively, reach out to us, and we will provide you with more professional recommendations.
Lastly, thank you for reading and supporting us. If you want to learn more about adult products, please follow us for continuous updates. Thank you!