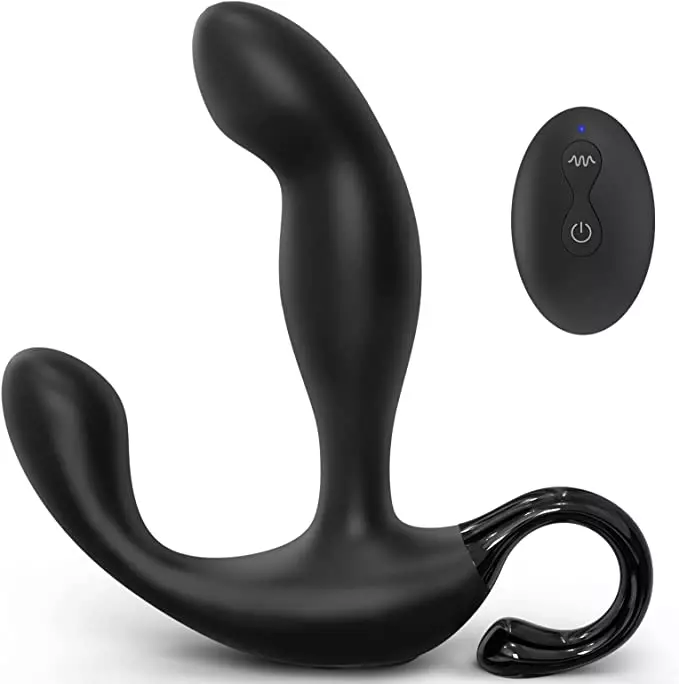 In addition to exciting sexual games, prostate massage can also provide an indescribable extraordinary pleasure. The Wave Motion Vibrating Prostate Massager is specifically designed for this purpose. With its powerful motor and versatile features, it delivers climax-inducing experiences for every adventurous user.
Next, we will provide you with a detailed introduction to its specifications, features, and use feeling, allowing you to have a comprehensive understanding of this product. If our article is helpful to you, please don't hesitate to show your support. Your support is our greatest motivation for future updates.
Rating: (4.8/5)
Specification
Price: $25.99
Color: Purple
Size: 5.87 x 5.79 x 1.73 inches
Weight: 7.83 oz
Use Feeling
This wasn't my first time trying this type of toy, but when I experienced the Wave Motion Vibrating Prostate Massager, I was amazed by its powerful performance.
I applied enough lubricant around the anus beforehand to ensure a smoother insertion. However, the smooth surface made insertion even easier than I had imagined. The snug design fit my anus perfectly and precisely hit my P-spot, providing intense stimulation. The use of the remote control is a bonus; with a simple press, I could experience different vibration modes, which was very convenient. Not only that, but the dual-head design also stimulated my perineum. With the dual action, I could feel my penis getting harder, ultimately leading to the climax.
After I had released all my passion, I lay on my bed and reminisced about the experience I had just had, and it was mesmerizing. Since then, I have been releasing almost three or four times a week, reaching orgasm with my sexual partner.

Features
This powerful prostate vibrator boasts an impressive size, designed to fill every inch of your rectum. The smooth surface ensures a silky smooth insertion, providing enhanced comfort, particularly suitable for beginners. Furthermore, it offers outstanding waterproof performance, allowing you to fully enjoy it in the shower or bathtub.
It won't disappoint in terms of performance either. The dual-head motor design stimulates your anus and penis separately, delivering double the pleasure. It also features 10 wave motion and 10 vibration options, making it ideal for those seeking exhilarating sexual climaxes. You can choose according to your preferences or explore for greater enjoyment.
FAQs
Is this anal vibrator waterproof?
Yes, this prostate massager has excellent waterproof performance, allowing you to enjoy wet play!
Does this toy have a strong wave motion and vibration pattern?
Yes, it has 10 swings and 10 vibration modes. If you are a beginner, you can choose a lower speed. If you like fast speeds, it has you covered too.
How to take out the insulation paper of the remote control?
As shown in the picture
Advantages
Smooth and comfortable silicone material that is not harmful to the body.
Waterproof and rechargeable design, so you can enjoy your fun anytime, anywhere.
Two vibrating motors stimulate the perineum and prostate at the same time for more exciting enjoyment.
With 10 waves and 10 vibration modes for you to explore, meeting the needs of different users.
Disadvantages
It is not immediately available.
Summary
If you're unsatisfied with your regular sex life and seeking new pleasures, then this prostate massager is tailored for you. Whether it's its outstanding performance or the comfortable experience it offers, it signifies that it's the best sex toy.
Of course, our homepage also features other exciting toys. You can click the subscription button below to view them. Alternatively, you can contact us for the most professional recommendations.
Finally, thank you for reading and supporting us. If you want to learn more about adult products, feel free to follow us as we will continue to update with more content. Thank you for your support!