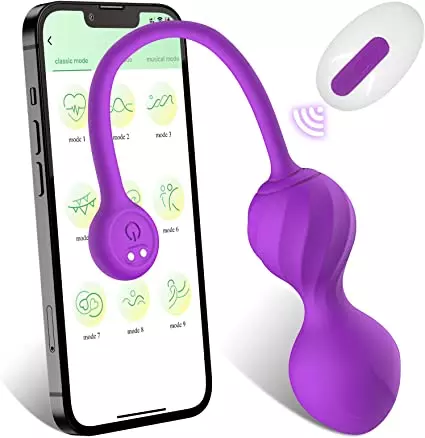 If you're an experienced player in the world of adult toys, then remote-controlled toys are not unfamiliar to you. Today, we introduce the star of the show, the Wearable Panty G-spot Bullet Vibrator with APP remote control. It cleverly combines a vibrator with your smartphone, greatly enhancing convenience and bringing you a unique sense of pleasure.
So, let's delve into its specifications, features, and use feeling, providing you with a detailed introduction to help you gain a more comprehensive understanding. If our article proves helpful to you, please don't hesitate to show your support. Your support is our greatest motivation for future updates.
Rating: (4.7/5)
Specification
Price: $19.90
Material: silicone
Color: Purple
Dimensions: 5.51 x 4.13 x 1.65 inches
Weight: 5.29 oz
Use Feeling
When I received this toy, I couldn't wait to try it with my wife. In one-on-one play, it didn't differ much from other vibrators. Its compact design allowed it to fit perfectly inside the vagina, and the external tail made it easy for me to remove. The powerful vibrations made my wife scream with pleasure, and together we reached climax.
But what truly excited me was when my wife was away on a business trip, and we tried the app control feature. Downloading the app and creating an account was easy, and I quickly became proficient with it. Under my control, we entered an interactive mode. Watching my wife indulging in pleasure on the other side of the video, I couldn't help but pleasure myself as well. I controlled this compact toy, and my wife responded accordingly. This toy broke the limitations of distance and was more enjoyable than traditional toys. Since owning it, my wife and I often tease each other online, making it our favorite toy.
Features
The Wearable Panty G-spot Bullet Vibrator is made of soft and safe silicone material, which is not only smooth and comfortable but also waterproof. You can enjoy the vibrating egg in the bathroom or swimming pool, and it's easy to clean. It uses USB charging and can be charged through any USB port for quick and convenient charging. The magnetic suction interface makes charging faster and more convenient, providing 60 minutes of continuous use with just 1.5 hours of charging time.
Its wearable design allows it to stay in your underwear quietly without disrupting your experience. The app remote control enables you to interact with your partner no matter where you are. They can control the vibrator and adjust the vibration intensity through the app.
FAQ
Does it work over long distances?
Unlike traditional remote-controlled toys, this powerful vibrator uses app control, allowing for remote interaction. However, both parties need to download the app and become friends with each other.
If my partner and I use the app, can everyone see it?
When you use the app to interact with your partner, only you and your partner can see it. The app will not disclose any information about you!
Does the application allow custom vibration control or only preset vibration patterns?
This Love Spouse App vibrator has a built-in custom vibration mode. You can create any vibration pattern you want and it comes with 9 classic patterns for you to choose from.
Advantages
Premium silicone material with excellent waterproof performance.
USB magnetic suction charging for greater convenience.
Offers 9 different vibration modes from gentle to intense.
App remote control breaks distance limitations and adds more fun.
Disadvantages
Desire for longer usage time.
Summary
This is a toy that can bring you surprises. Its outstanding performance combined with exciting features gives it more possibilities. Of course, if you want to explore more, we have similar products on our homepage. You can click the subscribe button below to view them. You can also contact us for the most professional advice.
Finally, thank you for your reading and support. If you still want to know more about erotic products, welcome to follow us, we will continue to update more content. Thanks for your support!