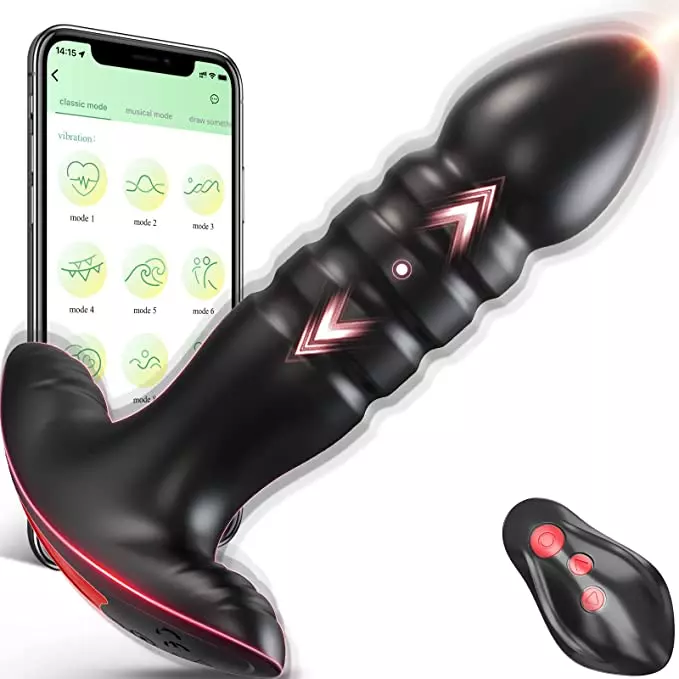 We've been searching for some exciting toys that go beyond just regular plugs, and that's when we came across this Anal Plug Vibrator with App Control. This anal toy is designed with two powerful motors that deliver intense vibrations and thrusting. What sets it apart is the ability to control it remotely through an app or remote control, offering a range of sensations from gentle to intense. With different rhythms, it brings you maximum pleasure.
Next, we will provide you with a detailed introduction to its specifications, features, and use feeling, allowing you to have a comprehensive understanding of this product. If our article is helpful to you, please don't hesitate to show your support. Your support is our greatest motivation to keep updating.
Rating: (4.8/5)
Specification
Price: $29.29
Material: silicone
Color: Black
Size: 6.85 x 4.72 x 1.65 inches
Weight: 9.91 oz
Use Feeling
For me, anal play is not unfamiliar, and some toys have even left me feeling numb. But everything changed when I got my hands on this Anal Plug Vibrator with App Control. It has a fully extended length of 6.85 inches and a width of 1.65 inches. This size is just right for me, providing enough stimulation without being too overwhelming.
After applying enough lube to my anal area, I tried inserting it. The smooth silicone surface feels great and makes insertion easy. I enjoy the ribbed design in the middle, which adds extra stimulation. The flared base at the end provides a secure fit. Using the remote control allows me to free up my hands and fully indulge in the experience. I particularly love the thrusting mode, as it perfectly hits my P-spot and delivers powerful stimulation.
I often engage in video sexting with my girlfriend online, but this time it was different. She was controlling this little guy through the app from the other side of the screen. Suddenly, I started trembling without knowing why. This unknown pleasure made my nights even more exciting.
Features
As a classic anal toy, it follows a traditional design in its shape. It is made of soft silicone material, providing the best enjoyment for every user. Additionally, it features a textured surface, enhancing sensory stimulation. The flared base at the end ensures a secure fit, and the power button, controls, and charging port are located there.
In terms of performance, two powerful motors control the vibration and thrusting modes. You can operate it through the remote control or the app. Users can control the vibration patterns and intensity. Experiment with different settings according to your needs and preferences to experience new sensations. This toy becomes even more exciting in couple play. It offers seven different thrusting and vibration speeds, ranging from gentle to strong. The vibration and thrusting functions can work simultaneously, repeatedly stimulating your sensitive areas.
FAQ
Can it be used as a plug during intercourse or for a double penetration feeling?
Yes, you can use it as a plug during intercourse, as well as a thrusting dildo, G-spot vibrator, or wearable vibrator.
Do I need to install the app on my phone?
In addition to phone control, this anal toy can also be operated using the remote control. If you prefer not to install the app, you can use the remote control to operate the anal plug. The app is just an additional option.
How long does it take to charge fully?
You will need to charge this anal toy for approximately two hours, and it can work for 40-60 minutes when fully charged.
Advantages
Made of high-quality waterproof silicone and supports USB charging.
A versatile toy suitable not only for men as an anal vibrator but also for women as a thrusting dildo.
Offers 7 thrusting and vibration modes for added pleasure.
Comes with smart app control, allowing for creative play in couples.
Disadvantages
Summary
This powerful anal vibrator excels not only in performance but also in its fun factor. It's an excellent choice for those seeking more variety in their experiences. However, due to its popularity, it is currently out of stock. Fortunately, we have similar anal toys listed below that you can check out by clicking the subscribe button.
Lastly, thanks for your reading. If you'd like to learn more about adult products, feel free to follow us. We'll continue updating with more content. Thank you for your support!