Anrivelia vows to provide the public with high-quality adult toys, and they certainly deliver. As part of their classic dildo toy series, the Anrivelia G Spot Dildo Vibrator stands out as a top choice. It offers 10 different vibration modes, each providing a unique pleasure experience.
Next, we will provide you with detailed information about its specifications, features, and use feeling, allowing you to have a comprehensive understanding of this product. If our article proves helpful to you, please don't hesitate to show your support. Your support is what drives us to continue updating our content.
Rating: (4.8/5)
Specification
Price: $25.29
Material: silicone
Size: 8.9 x 2.95 x 1.93 inches
Weight: 0.63 oz
Use Feeling
When it comes to dildo toys, I've tried many different styles. But everything changed when I came across the Anrivelia G Spot Dildo Vibrator.
I love its softness, which doesn't cause any discomfort during solo play. It feels incredibly comfortable when vibrating inside the vagina, without any sense of foreignness. The design of the O-ring handle makes it easy to grip, so I don't have to worry about it slipping out of my hand. As I apply enough lubricant and prepare to insert it, I can feel the friction inside me. The raised veins and realistic head provide such a lifelike sensation that it makes me scream with pleasure. Due to its wide head covering the vaginal area well, it can stimulate the soft but highly sensitive regions, which I thoroughly enjoy.
I've also tried every vibration mode it offers, and I have to say, each one is pleasurable. It hits my G-spot perfectly. Especially when I gradually increase the frequency, it provides an exceptional orgasmic experience. Whenever I feel lonely, I turn it on to fill the void in my heart and get through the long nights.
Features
This powerful G Spot Vibrator is made of soft silicone material, ensuring safety, comfort, and IPX5 waterproofing for easy cleaning in daily use. In terms of design, the handheld part of this simulated dildo adopts a rounded shape, making it easy to grip and preventing slippage during use.
Its most outstanding feature is its lifelike design, which closely imitates the appearance of a penis. The raised veins and realistic head bring even more pleasure. The wide head design effectively covers the vaginal area and stimulates your G-spot. Additionally, this toy offers 10 powerful vibration modes, allowing you to freely change modes at your preferred speed, from gentle to intense. It fully satisfies the different needs of beginners and experienced users alike.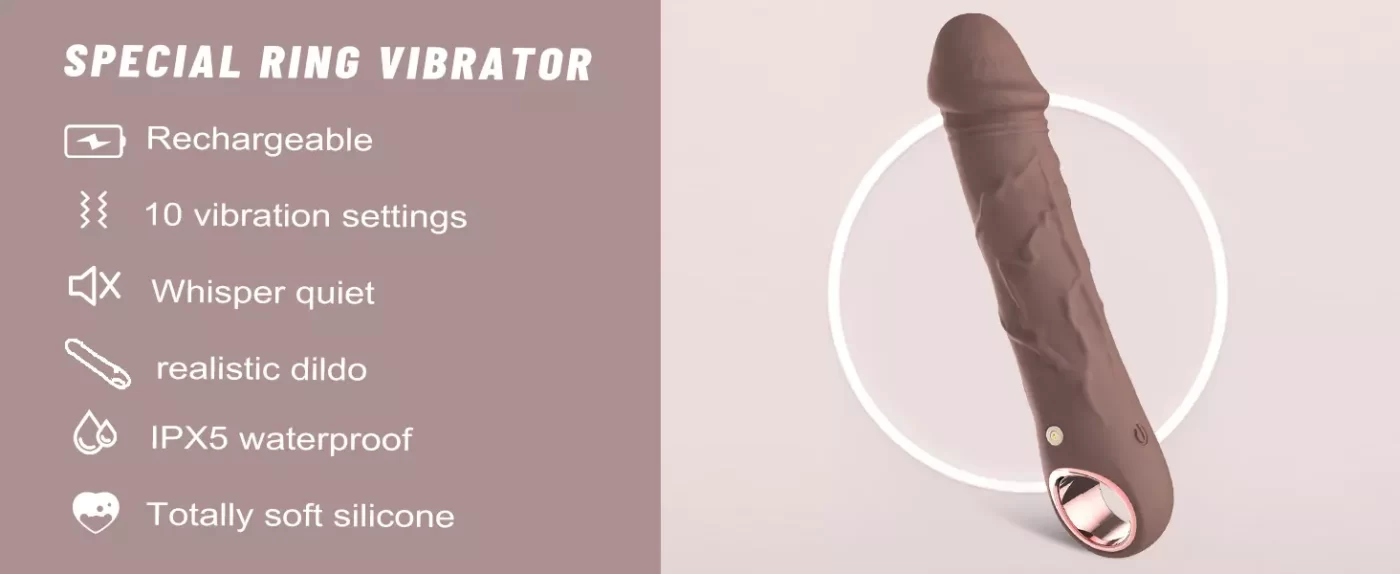 FAQ
How long does it take to fully charge this toy? Can I use it while it's charging?
Generally, it takes 2 hours to fully charge the toy. However, the exact charging time may vary depending on the remaining battery level of the toy. Also, please refrain from using it while it's being charged!
How can I adjust the frequency mode I need?
This toy is controlled through buttons. You simply need to press and hold the power button to turn it on. Then, with short presses, you can adjust the frequency to your liking.
Is it waterproof? Can I use it underwater?
This vibrating dildo is waterproof for everyday use and can be cleaned with water. However, please avoid submerging it in water or using it underwater to prevent damage.
Advantages
Realistic design.
Wide head design that covers more sensitive areas.
Ergonomically designed for easy grip.
IPX5 waterproof rating for easy cleaning.
Offers 10 different vibration modes to choose from.
Disadvantages
Summary
This is a toy that will surprise you, both in terms of performance and appearance. Additionally, we have similar toys listed in our collection. You can click the subscribe button below to view them. Feel free to send us a direct message if you have any inquiries. We look forward to hearing from you.
Finally, thanks for your reading. If you'd like to learn more about adult products, please follow us. We will continue to update with more content. Thank you for your support!