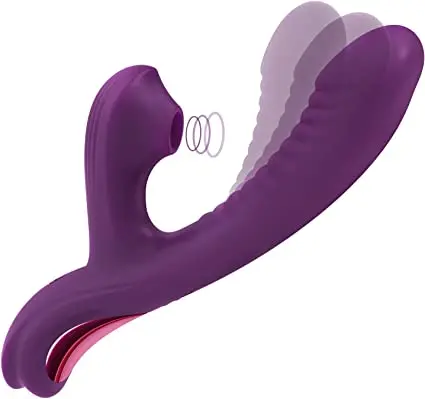 I have always been greatly interested in Tracy's Dog products. Before this, I have also tried their other toys and had good experiences with them. However, when I first came across Tracy's Dog Come-Hither Rabbit Sucking Vibrator, I was deeply drawn to it. It is so exciting and has not disappointed me in any way.
Next, we will provide you with a detailed introduction to this product, including its specifications, features, and use feeling, allowing you to have a comprehensive understanding of it. If our article has been helpful to you, please don't hesitate to show your support. Your support is our greatest motivation for updates.
Rating: (4.8/5)
Specification
Price: $59.99
Material: silicone
Dimensions: 10.94 x 6.3 x 2.28 inches
Weight: 15.52 oz
Charging time: 2.5 hours
Use time: 60 minutes
Use Feeling
As soon as I received the Tracy's Dog Come-Hither Rabbit Sucking Vibrator, I couldn't wait to praise its advantages to all my friends. So when we gathered together, we began our first trial.
Firstly, the texture of this toy is incredibly comfortable, and I didn't feel any discomfort during insertion. Once it was fully inside, I could feel the fulfilling sensation below, while the other end perfectly targeted my clitoris. The genius design that combines thrusting and suction provides dual stimulation that made my body convulse, turning my world upside down. Within a few short minutes, I climaxed. The unprecedented pleasure drove me crazy.
We started exploring different vibration modes. Switching between modes was easier than I imagined, and I could customize them according to my mood. Even at the lowest intensity setting, I would tremble within a few minutes. The most intense experience was reaching climax every few minutes. It was like a proud knight, successfully conquering all of us. Even when we were lying on the ground exhausted, it remained as sturdy as ever.
Features
This is a clitoral vibrator with a powerful performance. It is made of high-quality silicone material that is safe for the body, with a soft and skin-like touch. The realistic texture design on the surface provides a more authentic insertion experience. It also features two powerful independent motors that control different modes. The curved shaft with special ridges provides extra intense stimulation during insertion. It offers 10 vibration and G-spot stimulation modes. The position of the rabbit orifice is perfect for deep clitoral stimulation, adding fun to the bedroom with its 3 suction modes. It's worth mentioning that it also has a come-hither motion feature, mimicking the enticing "come here" finger motion to stimulate your internal G-spot hands-free.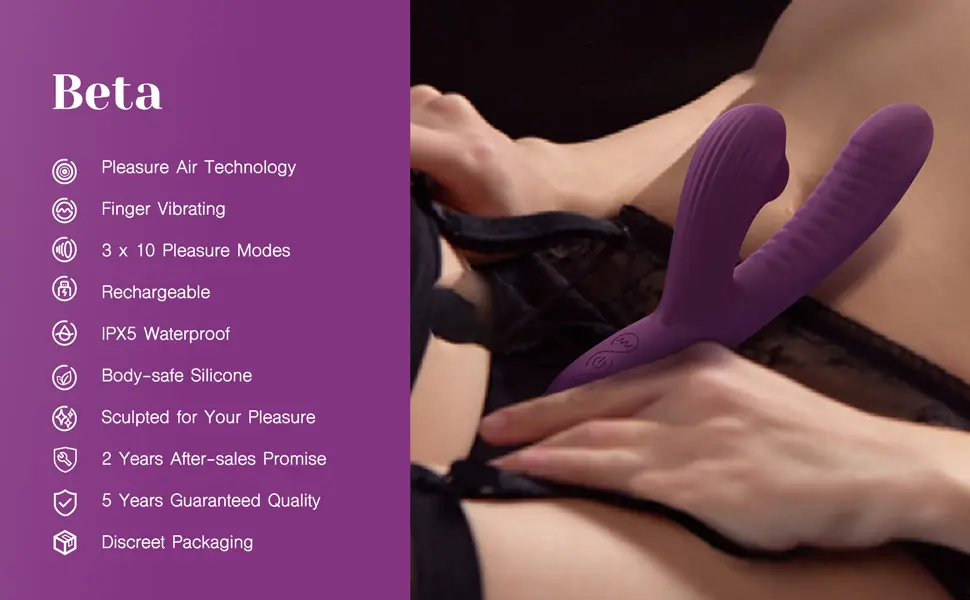 FAQ
Can I use the vibration and suction functions at the same time?
Yes, the toy has independent controls, so you can use them separately or simultaneously.
How do I recharge the battery?
This device doesn't have a battery. You need to use the charger cable that comes with the device to charge it. When the indicator light stays on steadily, it means it's fully charged.
Does it have buttons to increase or decrease the speed?
It doesn't have separate buttons to control the speed for each mode, but you can change the speed by pressing each button.
Advantages
Soft and comfortable silicone material, easy to grip.
Buzzing come-hither curved tip design for precise G-spot hitting.
Pleasure Air Technology is designed to suck, pulsate and vibrate your sensitive beans.
Beta hits all the right spots and delivers intense excitement.
Discreet packaging to safeguard your privacy.
Disadvantages
Summary
This is a toy that will surprise you, both in terms of performance and appearance. We also have similar toys in our list, which you can check out by clicking the subscribe button below. If you have any questions or need assistance, feel free to contact us. We look forward to your consultation.
Finally, thanks for your reading. If you'd like to learn more about adult products, feel free to follow us. We'll continue to provide more updates. Thank you for your support!