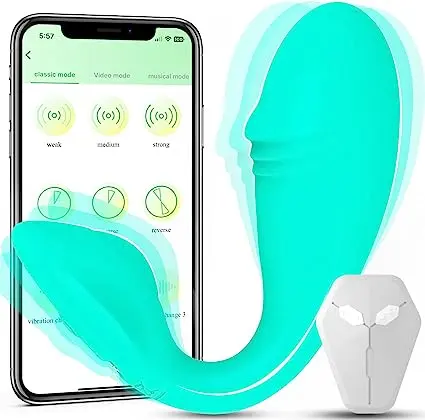 We've been searching for a powerful couples' sex toy that can support interactive play and deliver incredible vibrations for an amazing climax experience. And the SUNFOME Dual Motors with 9 vibrations is the game-changer we've been waiting for. It takes your solo pleasure to a whole new level and adds more excitement to couples' play, providing both partners with the ultimate sexual experience.
Now, let's dive into the details of this toy. We'll provide a comprehensive overview of its specifications, features, and user experience, allowing you to have a thorough understanding of this product. If our article proves helpful to you, please follow and support us. Your support is what drives us to keep updating our content.
Rating: (4.8/5)
Specification
Price: $25.99
Material: Silicone
Size: 5.75 x 3.58 x 1.65 inches
Weight: 6.74 oz
User Experience
I'm a devoted enthusiast of clitoral vibrators. There's something incredibly thrilling about these little toys rubbing against my intimate areas. When my fiancé Kennedy presented it to me, we were both intrigued and decided to give it a try. And it didn't disappoint.
Kennedy placed the toy on my clitoris while his hands roamed over my body. The presence of the remote control freed up our hands, allowing us to do more. It made me feel like I was having sex with multiple men at once. What's even more amazing is that, unlike regular clitoral vibrators, it also stimulates the G-spot. Oh, the dual internal and external stimulation had me screaming with pleasure.
But what truly made me fall in love with it was when I went on a business trip and Kennedy was miles away. I suddenly realized that this toy could be controlled through an app and wasn't limited by distance. My goodness! It was mind-blowing. We tried out all the features, including the music mode and drawing mode. It was more fun than actual sex!
Features
The SUNFOME Dual Motors with 9 vibrations offers three convenient operating modes for users. You can control it through the app, use the wireless remote, or utilize the buttons on the device itself, providing great convenience and enjoyment. Moreover, it breaks the limits of distance. With a total of six different modes, you can explore and discover new and exciting self-pleasure experiences.
In terms of performance, it is equally powerful. The design with two independent motors supports nine intense vibrations that simultaneously target your G-spot and clitoris, providing unparalleled dual stimulation.
Even if you're a beginner in this area, there's no need to worry. This wearable vibrator is made of high-quality silicone material and boasts excellent waterproof capabilities, ensuring safety and comfort during use.
FAQ
How far is the remote control distance?
The included remote control has a range of 30 feet. However, if you control it through the app, there are no distance limitations.
Do I need to insert both ends?
Actually, if you want maximum stimulation, you can do that. Generally, it is designed to stimulate both your G-spot and clitoris.
This toy has outstanding waterproof performance, making it easy to clean. You can simply wash it with mild soap and water.
Advantages
The soft silicone material is suitable for beginners.
Powerful dual motors with support for 9 vibration modes.
Provides precise stimulation for your G-spot and clitoris.
Multiple operating modes that break distance limitations.
Discreet packaging.
Disadvantages
Summary
That concludes our overview of this toy. If you're interested in this product, we also have other excellent similar toys available on our website. Simply click the subscribe button below to check them out. We also offer customization services, so if you have any specific needs or are interested in full-body dolls, we can assist you. Feel free to message us at any time with your inquiries.
Lastly, thank you for your reading and support. If you'd like to stay updated on more content related to adult products, please follow us. We'll continue to provide regular updates with more exciting content. Thank you for your support!