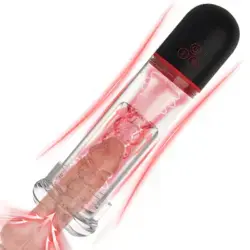 In order to make your sex life more exciting, we have prepared this S-HANDE Sucking Suction Penis Pump Review for you!
If you're still struggling to find the best masturbator, then don't miss out on this S-HANDE Vibration 9 Mode Sucking Suction Penis Pump. This is the most unique pump we have ever seen, with a perfect combination of masturbation and penis exercise, serving as a dual-purpose toy. It also has other outstanding features, aiming to provide you with the most comfortable experience.
Next, we will introduce it to you in detail from its specifications, features, and user experience, so that you can have a more comprehensive understanding of it. If our article is helpful to you, please don't hesitate to give us your attention. Your support is our biggest motivation for updates.
Rating: (4.8/5)
Specification
Price: $89.95
Material: ABS, TPE
Weight: 1.6 lbs
Color: Black & Red
Frequency: 9
Charging time: 150 minutes
Running time: 60-150 minutes
Power type: USB charging
Waterproof: not waterproof
Features
The design is similar to the shape of most masturbation cups on the market. It uses clear plastic on the outside and soft silicone on the inside. It will not hurt your skin while using it and also provides the most realistic experience.
The detachable design makes this toy very convenient when cleaning. Since it is not waterproof, try to ensure that the motor part does not touch the water when disassembling for cleaning. In terms of function, it has 3 frequencies and 9 sucking modes. With a carefully designed double button to control, you can easily find the one that suits you best without worrying about discomfort caused by excessive sucking.
It is worth mentioning that there is a scale on the transparent side of the cylinder. So you can see the improvement process of penile erection and help you get back your confidence during training.
Use Feeling
First of all, in terms of product packaging, it is very thoughtful and has privacy, which I like. As you can see in the pictures, it doesn't make much difference. But it may be a little bigger than you think.
I suggest you use lube when using the pump, it works and protects your cock from injury. When I was fully in, I could feel the satisfaction of being wrapped, very real and comfortable. I started testing at the lowest level of frequency. The six connected chambers inside have different textures, creating an incredible feeling of cock scraping and wrapping. And its highest frequency is amazing, which brings intense stimulation. But I don't recommend you use it like this for a long time because you might get hurt.
I enjoy the quietness of it in use, which allows me to give my full attention to it without being disturbed. It is also cleverly designed, easy to hold, and powerful suction even allows you to free your hands. Of course, it is best not to try it lightly.
Advantages
9 modes of sucking + 9 frequencies of vibration to choose from
Dual function provides unparalleled sexual enjoyment and a surprising physical boost
Visualization of the process of improving penile erection
Powerful suction effect brings unlimited fun
Disadvantages
Not suitable for novice users
May be out of stock soon
VIdeo
Summary
Overall, it does help with erections and is very effective in keeping the blood flowing to the penis. But what you need to know is that this is only a supplementary erotic toy. If you do have this convenient problem, it is still recommended to treat it under the guidance of a doctor, it is not a substitute for medication.
Finally, thank you very much for reading this S-HANDE Sucking Suction Penis Pump Review! If you still want to know more about erotic products, welcome to follow us. We will continue to update more content.