Are you worried about your size or unhappy with your sexual life with your partner? Then don't miss out on the Electric Vacuum Suction Penis Enlargement Pump, the ultimate male enhancement tool. This amazing product with its outstanding performance brings you a more realistic orgasm experience and enhances your size.
Next, we will introduce it to you in detail from its specifications, features, and use feeling, so that you can have a more comprehensive understanding of it.
If our article has been helpful to you, please don't hesitate to follow us, your support is our greatest motivation for updating more content.
Rating: (4.8/5)
Specification
Price: $73.42
Material: ABS, TPE
Weight: 1.7 lbs
Size: 11*3″
Charging time: 90 minutes
Running time: 50 minutes
Power type: USB charging
Waterproof: IPX6
Features
Firstly, in terms of materials, the inside is made of soft silicone, while the outside is made of high-quality TPE. This ensures maximum comfort during the enlargement process. The interior is designed with various particles and textures in a 3D realistic channel, which provides an amazing sensation. Using a water-based lubricant can enhance the smoothness and bring your pleasure to a new level.
Secondly, in terms of functions, this toy has six different suction modes. You can choose the suction sensation that suits you best to ensure maximum pleasure every time.
In terms of specifications, it is compact in structure, easy to use, and the appropriate size makes it easy to grip. It's worth mentioning that the waterproof level of this product is IPX6. This means it can be used in the bathtub or shower, providing versatility in different scenarios. This new level of convenience and versatility allows users to enjoy this experience in their own comfortable space.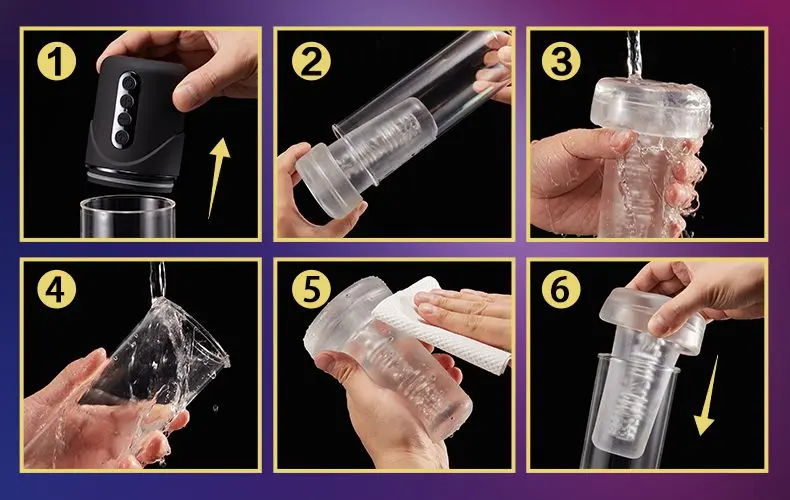 Use Feeling
To be honest, I had some concerns about this product before using it. But surprisingly, it performs exceptionally well in enhancing pleasure. It can quickly get me into the "battle mode" without spending a lot of time on foreplay. In the first few nights after receiving this product, my wife and I had several wonderful experiences.
Of course, it also works for solo players. Each of the six different suction modes provides a unique sensation. I tried them all, and the experience was very realistic, almost like real sex. It grabs you and mercilessly moves up and down, leading to a quick release. Luckily, cleaning it is straightforward, as I can easily disassemble it, and I don't have to worry about water damage.
This product has opened up a new world for me! I mean, it's a very good thing. The powerful suction elevates everything to a whole new level. Use the normal mode as a masturbator, and try the enlargement mode for added fun. I believe everyone will fall in love with this toy.
Advantages
2-in-1 penis enlargement and suction
6 different suction modes
3D realistic channel with various particles and textures
Water-based lubricant for amazing smoothness
IPX6 waterproof rating
Disadvantages
Shorter usage time
May be out of stock soon
Summary
In short, this is a toy that can bring you a surprise. With its unique suction pattern and realistic channeling, this is unmatched by any other product on the market. I highly recommend this product to anyone who wants to take their pleasure experience to new heights.
Finally, thank you for your reading support! If you still want to know more about erotic products, welcome to follow us. We will continue to update more content.