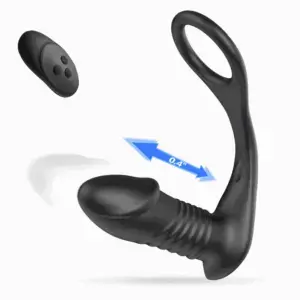 On the quest for ultimate pleasure, we never stop exploring. And luckily, we have found a toy that can do it all – the Moore – Silicone Remote Control Cock Ring Anal Vibrator. This sex toy not only boasts powerful performance but is also extremely convenient to use. It's great for both men and women and truly delivers more than your average toy.
Next, we will introduce it in detail from its specifications, features, and use feeling, so that you can have a more comprehensive understanding of it. If our article is helpful to you, please don't hesitate to follow us. Your support is our biggest motivation for updates.
Rating: (4.7/5)
Specification
Price: $52.99
Material; Silicone
Size: 4.5*6.69″
Color: Black
Weight: 0.3 lbs
Noise level: <50 db
Waterproof: IPX6
Power type: USB rechargeable
Use Feeling
This is truly insane. The Moore – Silicone Remote Control Cock Ring Anal Vibrator is one of the best products I have ever encountered due to the sensations it brings me. It combines a plug with a seductive texture and an easy-to-squeeze cock ring. When the elastic ring fits snugly around my penis, I feel the sensual texture of the plug in my butt, leading me straight to climax.
What's more, the dual motors in the central shaft and tickler provide explosive sensations from the inside out through 10 powerful vibration modes and 3 thrusting functions. The intense pleasure takes over my mind, leaving me obsessed.
In addition, this toy offers hands-free fun with its remote control feature. I handed the controller over to my wife and enjoyed the unknown sensations. She enjoyed playing with it too, and we haven't had such wild sex in a long time. This experience not only elevated our souls but also strengthened our bond.
Features
The Moore is a remote control cock ring anal vibrator that offers 10 stimulating vibration modes and 3 thrusting functions. While this multi-mode selection is common in anal toys, it provides even more intense stimulation due to its powerful motor.
This toy perfectly combines texture and flexibility. The dual motors in the central shaft and tickler offer hands-free pleasure, and the squeeze-style cock ring helps maintain a lasting erection.
In terms of material, it is made of skin-friendly silicone and features a ribbed shaft and realistic head to stimulate the prostate. It also has a 4.5-inch insertable length and 1.77-inch diameter, making it suitable for all experience levels.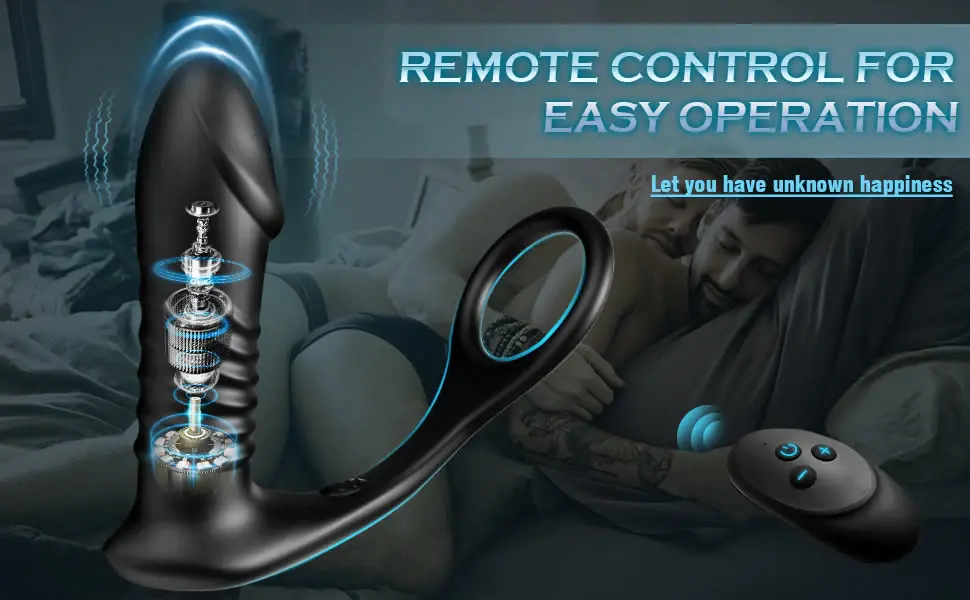 Advantages
A vibrating prostate massager with a penis ring enhances erections and triggers intense orgasms.
Explore 10 exciting vibrations and 3 thrust modes to get the satisfaction that's right for you.
Threaded shaft and realistic glans for prostate stimulation.
Made of skin-friendly silicone, it is soft to the touch and safe to use.
Play hands-free games with the remote control or invite your partner to tease you from a distance.
IPX6 waterproof and USB rechargeable.
Disadvantages
Summary
Overall, this little toy does it all. It hits my thrill points and is easy to use and fun for both men and women. And the use of the remote adds even more fun, especially when it is controlled by someone else. Whether you are a new user or an experienced user, it's a great fit.
Finally, thank you for reading and supporting us! If you still want to know more about erotic products, welcome to follow us. We will continue to update more content.