In order to make your sex life more exciting, we have prepared this Automatic Male Masturbator Blowjob Master Review for you.
Are you looking for a product like this? One that has different modes, a unique stretch design, a beautiful appearance, and is easy to carry. I can confidently say that you don't want to miss out on this 12 Modes Automatic Male Masturbator Blowjob Master. It's not just for male use, women can also give it as a gift to their boyfriends, making it a very worthwhile investment.
Next, we will provide a detailed introduction to its specifications, features, and use feeling, allowing you to have a comprehensive understanding of it. If our article is helpful to you, please do not hesitate to follow us. Your support is our greatest motivation for updating.
Rating: (4.7/5)
Specification
Price: $109.26
Size: 8.26*5.9*9.64 inches
Color: black and white
Material: ABS, TPE
Weight: 2.4 lbs
Type: Vaginal
Function: Retractable
Frequency: 12 expansion modes
Power type: USB rechargeable
Use Feeling
The unique design of this toy was my first impression. Initially, I was skeptical about its performance because, with my years of experience with sex toys, they tend to be quite bland, but this one shattered my perception.
As soon as I turned it on, it worked quickly, and the powerful motor made the speed very fast. Combined with 12 different thrust functions, damn, I came instantly!
So I cleaned it and tried it again. It's worth mentioning that the cleaning process is very convenient, which I like. When I put my penis inside, the 3D textured channel made me addicted to the exciting swirling texture and brought intense pleasure in the sensory massage process. I like that it has different degrees and strengths of suction, making me closer to the edge and then pulling back when needed, to last longer.
Features
This male masturbator is USB rechargeable, which is very convenient to use. You can even carry it out for a trip. It has an extremely fast electromechanical motor with superb and unbeatable speed, and with the realistic internal pattern, you will be instantly refreshed.
With 12 different stretching modes in function, you can freely choose and find the one that suits you best. The extra-long stabbing distance of up to 50mm wraps and rubs every stripe of your cock tightly, allowing you to enjoy a straightforward orgasm.
It is also very easy to clean. The cleaned tape can be replaced to ensure your safety. The adhesive tape can also be removed for use with other appliances.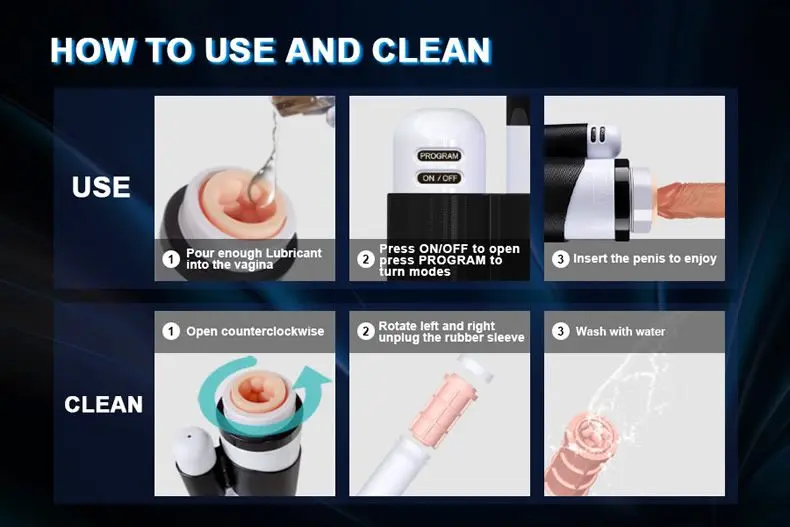 Advantages
12 mode thrust function, super invincible speed, custom thrill
Unique retractable design, a maximum retractable distance of 50mm, so you instantly refresh
The 3D texture channel allows you to indulge in a swirl of textures, bringing excitement to a sensual massage
Easy pull rubber sleeve makes oral sex master easy to clean and install
USB charging for easy travel
Disadvantages
Video
Summary
Overall, Automatic Male Masturbator Blowjob Master is a great sex toy. Can't even call it a sex toy because if someone saw it when it was set aside they would never know it was used for masturbation. The vibrations and suction are very realistic and overall give a very tight feeling. That being said, you only need to add a little lube to make sure you get a full erection. Trust me, you're going to love this thing.
Finally, thank you very much for reading this Automatic Male Masturbator Blowjob Master Review. If you still want to know more about erotic products, welcome to follow us. We will continue to update more content.