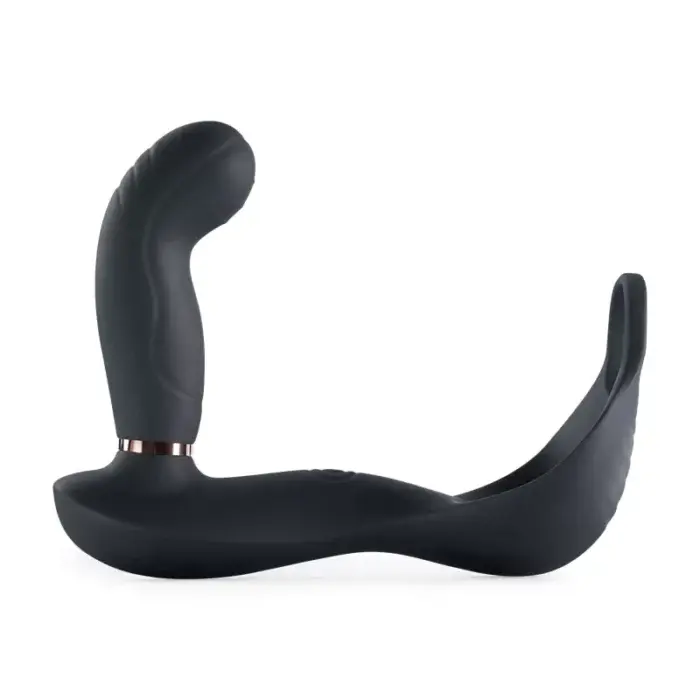 With the popularity of anal play, people are no longer satisfied with the masturbatory experience of oral sex cups and are gradually exploring the pleasure that comes from the anus. The Bill 7 Vibrating & Pulsating Balls Teasing Butt Plug with Cock Ring is such a sex toy. It is designed to bring an unparalleled experience to your anus and enjoy prostate orgasms.
Next, we will give you a detailed introduction to its specifications, features, and use feeling, so that you can have a comprehensive understanding of this product. If our article helps you, please give us a thumbs up. Your support is our biggest motivation to keep updating.
Rating: (4.7/5)
Specification
Price: $46.62
Size: 4.72*6.02″
Insertable length: 3.34″
Weight: 0.48 lbs
Use Feeling
I can say for sure that once you experience a prostate orgasm then you will never forget it. And this toy makes the process easy.
In the shape of the classic design, the black exterior makes it look very understated. In terms of texture, it gives me a very skin-friendly feeling and is very lightweight at 0.48 pounds.
Although this isn't my first time using anal toys, I still suggest you apply enough lubricant to ensure that it's wet enough. When I inserted it, I felt a sense of fullness. Plus, the use of the remote control made it more convenient for me to operate. I could lie on the bed and control the different modes. The vibration was just right for me, and the appropriate length stimulated my P-spot just right. To be honest, I only lasted for 5 minutes before ejaculating.
Features
The Bill 7 Vibrating & Pulsating Balls Teasing Butt Plug with Cock Ring is designed to provide you with four times the pleasure. This multifunctional anal toy can hit all the hotspots between the deepest P-spot and the penis, bringing incredible mixed orgasms. This is probably only possible when you hit multiple erogenous zones at the same time.
The elastic ring at the front end can be wrapped around your shaft and snug against your balls. The ring amplifies the pleasurable pressure your body is already enjoying, making you feel bigger and harder than ever before. Meanwhile, the base fits snugly between your cheeks and is very comfortable. With the remote control, you can easily hit multiple hotspots at once and enjoy enhanced anal pleasure!

Advantages
A flexible penis ring plus a butt plug with 7 vibrations and pulsations.
Improve wake-up when crossing all hotspots.
Smooth curvature tilt for P-dot fun.
The snug base and stretchy ball ring allow you to wear it comfortably throughout the day.
The hidden 10M remote control allows for greater freedom.
Disadvantages
Summary
In short, if you want to try a toy for anal play, this toy will be your perfect companion. It may not be the top product in this series, but it is the most comfortable entry-level option. It takes care of the user experience of beginners. What are you waiting for? Don't miss it.
Finally, thank you for reading and supporting us! If you want to learn more about erotic products, please follow us. We will continue to update with more content.