Wait, please! Don't close the page just yet! Don't be intimidated by the appearance of this product. Most people's first impression of the Three Channel Mouth Vaginal Anal Pocket Pussy is its lifelike face design. This is also the reason why many users give up buying it, but once you have used it, you will marvel at the exceptional features of this toy. Here, you don't have to worry about whether it's a mouth, anus, or vagina. Just stick your cock into one of the holes and experience a different kind of stimulation and pleasure.
So, in the following, we will provide you with a detailed overview of its specifications, features, and use feeling, so you can have a more comprehensive understanding of it. If our article is helpful to you, please don't hesitate to follow us. Your support is our greatest motivation for updates.
Rating: (4.7/5)
Specification
Price: $56.66
Material: TPR
Color: Brown
Size: 7*3.45 inches
Weight: 1.2 lbs
Use Feeling
Three Channel Mouth Vaginal Anal Pocket Pussy is wrapped in a nice unobtrusive box that will keep out those prying eyes. I love this discreet packaging. The material texture feels the most realistic to me, and it's incredibly soft. I can adjust the tightness of the mouth by squeezing the cheeks. Its teeth are hard enough to rake gently along the shaft without scratching or causing discomfort. The tongue moves well during use, and the ridged top of the mouth adds good texture.
I also experienced the other two holes. The vaginal entrance is tighter than the mouth. The internal texture varies between uneven and smooth, which is very pleasing. The anus is very tight, and unlike other closed toys, it doesn't form bubbles when I enter. This is important because when bubbles form and reduce sensation, other toys will offset their textures.
Finally, it's also easy to clean. Just apply the external solution inside and outside before cleaning, and don't wipe it dry with a towel as it will gather lint. Let it dry in the sun and you're ready for the next game.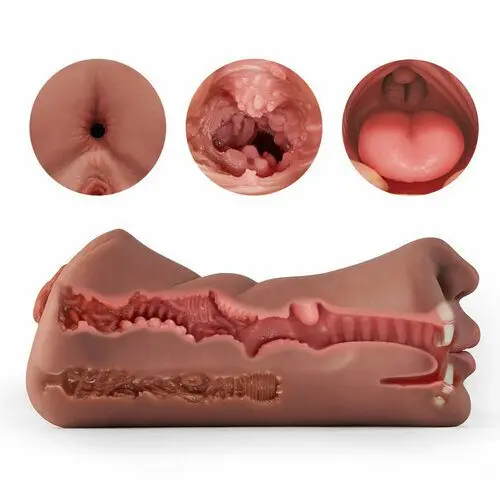 Features
This high-quality three-in-one male masturbator offers three different types of stimulation, including two independent textured channels. Every stroke can bring pleasure to your penis. Designed with a brown-skinned girl, it's perfect for satisfying your ultimate fantasies. Made of TPR material that is harmless to the body and skin-friendly, it has an incredibly realistic feel and is a perfect supplement to any male series.
It brings high-quality pleasure to men at a low price. When you penetrate her throat, you will hear her whimper and moan as your penis fills her up. Thrust into her anal opening and feel her anal passage suck you in until your cum enters her body completely. She can't wait, so use your cock to penetrate her full lips for stimulation and excitement.

Advantages
High-quality, low-price masturbators for male pleasure
The 3-in-1 male masturbator provides three different kinds of stimulation
2 separate textured channels to make your penis feel good with every stroke
Realization of the ultimate fantasy brown skin girl
Body-safe and skin-friendly TPR material gives you an incredibly realistic feel
Discreetly packaged, all products are packaged in discreet boxes to protect your privacy
Disadvantages
Video
Summary
Overall, this is a great toy. I highly recommend it to all first-time users because it has strong suction and all three channels feel amazing. If you want to get more different experiences at a cheap price, then you definitely shouldn't miss it.
Finally, thank you for reading and supporting us! If you want to learn more about erotic products, please follow us. We will continue to update with more content.