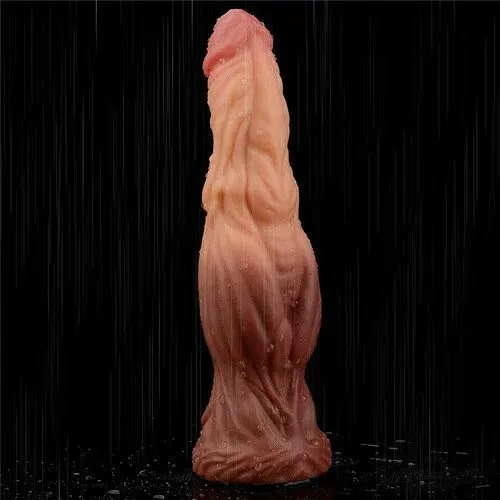 Are you no longer satisfied with ordinary sex toys? Do you crave more intense stimulation? Then you won't want to miss out on the Lovetoy 10 inch Dual-Layered Silicone Extra Large Dildo. Its exaggerated size and thick surface texture will drive you wild all night long. Once you've fully grasped it, you'll be left with a lasting impression. Comfortable, flexible, and incredibly girthy, this is a challenge that will take even advanced users to thrilling new places.
Now, we'll provide you with a detailed overview of its specifications, features, and use feeling, so you can have a more comprehensive understanding of it. If our article is helpful to you, please don't hesitate to follow us. Your support is our greatest motivation for updates.
Rating: (4.7/5)
Specification
Price: $87.48
Material: silicone
Size: 9.65 inches
Weight: 1.99 lbs
Use Feeling
Although I knew its size beforehand, I was still taken aback when I saw it. Made of dual-layered silicone, it feels softer to the touch than other toys, just like real skin. The sensation at the tip is great and it doesn't feel too hard when inserted, while the thick girth in the middle isn't as easy to pass through. As I got used to it, I began to slowly thrust, and the lifelike texture on the surface rubbed against my anal walls, providing intense stimulation.
I have to say, this is more stimulating than any toy I've played with before. Its huge size filled my body and I was immersed in intense pleasure all over, unable to pull away. It's also great for women. My wife joined in the game and when I used it to massage her vaginal entrance, it quickly became wet. And when I inserted it fully, my wife let out a wild scream. It was so crazy that she reached orgasm in no time. She played with it all night long! This was a wonderful experience.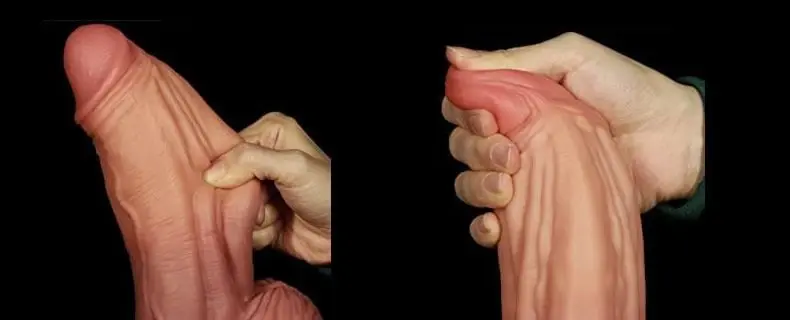 Features
Made from a double layer of silicone, this Dual-Layered Silicone Extra Large Dildo with a soft silicone exterior paired with a hard core is an absolute masterpiece! It also features ultra-realistic details and protruding veins for added stimulation, simulating the real feel of a human hand for a great experience.
With its amazing size and unique look, everyone who has seen it will be amazed. Richer textures can give your G-spot even more pleasure, which makes it the perfect partner for flirting. Plus, the suction cup base frees up your hands and gives you the freedom to explore your innermost desires.
This extra-large dildo can create pleasure you have never experienced before. Its huge flesh-like girth will take you to new heights of orgasmic bliss. The huge and realistic feel fills your passage, allowing you to enjoy the extra satisfying insertion pleasure.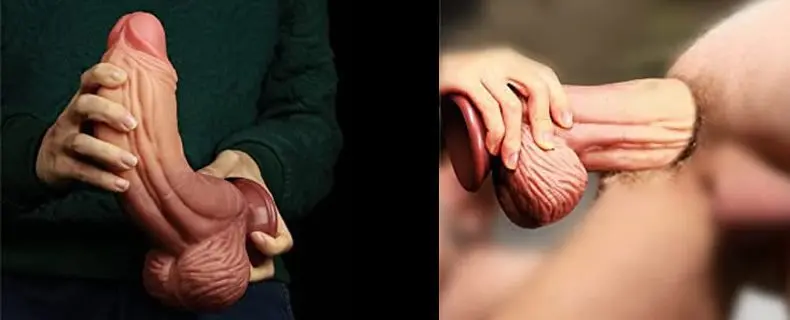 Advantages
Amazing size
Ultra-realistic details and protruding veins
Suction base, free your hands
Double-layer silicone is softer than your other toys
100% waterproof for use in the tub, shower, or wherever you want
Discreet packaging
Disadvantages
Not suitable for novice users
Video
Summary
In short, this is not a toy designed for beginners. Even with ample sexual experience, protection must be taken into consideration before use. Applying enough lubricant ensures your perfect sexual experience. For those who pursue more intense pleasures, this toy will be their top choice.
Finally, thank you for reading and supporting us! If you want to learn more about erotic products, please follow us. We will continue to update with more content.