Are you still stuck in traditional sexual patterns? If you feel bored with your current sex life, why not try something new? I don't mean experiencing a new sex toy, but a new and exciting way to play – SM. Perhaps some people have misunderstandings about it, but what I want to say is that it's not about perversion or crime; it's a role-playing game between couples. You play either the dominant or submissive role, gaining pleasure from it. Of course, if you want to learn more about it, you can check out our "What is BDSM" article.Now, I want to introduce you to a prop used for BDSM – the Federico – Luxurious Restraint Kit Genuine Leather. After our careful testing, it successfully stands out among many products.
Next, we will provide you with a detailed overview of its specifications, features, and use feeling, giving you a more comprehensive understanding of this product. If our article is helpful to you, please don't hesitate to follow us. Your support is our greatest motivation for updates.
Rating: (4.8/5)
Specification
Price: $129.99
Material: leather
Weight: 800g
Size: fully adjustable
Use Feeling
My wife bought this product, and when I saw it I thought it was just a decorative item like a bag and a necklace. But I was very surprised when my wife told me that these were also SM paraphernalia. Because we have not played SM games before at all. At first, I thought she was too crazy. But then I saw my wife's expectant gaze and said teasingly, "So tonight!" I said, "Do you want to see me as a stewardess, or a nurse? Or maybe a maid?" I said yes. Because I love her so much, I want her to experience awesome sex.
My wife changed into her uniform and asked me to tie up all her limbs and put a collar around her neck. Everything was ready, and we started the SM game. My wife played the role of a very horny maid, and I was her master. She behaved very lustfully and asked me for more. I began to order her to masturbate and suck my cock. Needless to say, the scene engrossed me, and we began to unfold further. I slapped her ass, leaving a trail of red marks. My wife catered to this, making slutty moaning sounds.
Under the bondage of the belt, my wife couldn't make too many movements. She struggled, but this kind of submissive look made me more excited. And the bright colors aroused my greater desire in this situation, which I liked. When the game was over, I untied my wife from the belt. This process was simple, and my wife did not feel uncomfortable. On the contrary, she was very happy. If you are curious, I would say it's worth a try.
Features
If you are ready to take your sex life to a new level, then this Federico – Luxurious Restraint Kit Genuine Leather will be your perfect starting point. This comprehensive set of sex toys is designed for beginners who want to explore exciting games.
The kit is made of genuine leather, soft and durable, with oil paint on the edges, and the wearing is smooth and comfortable. In addition, the shoulder straps are connected by golden chains and soft leather, adding a sense of luxury to this product. The kit includes wrist and ankle cuffs, a collar, and belts, all made of super soft and adjustable leather. Whether you want to please your partner or completely control them, this kit is the perfect choice for opening up new intimate relationships.
Furthermore, this kit comes with adjustable shoulder straps that fit all bed sizes and can be used in various places. The storage bag design allows you to carry it with you wherever you go. The bucket-shaped flap and golden double-headed bolt buckle add a touch of sensuality to your game time.
Unlike other sex toys, this one requires the cooperation of your partner. So be sure to follow your partner's wishes before using it.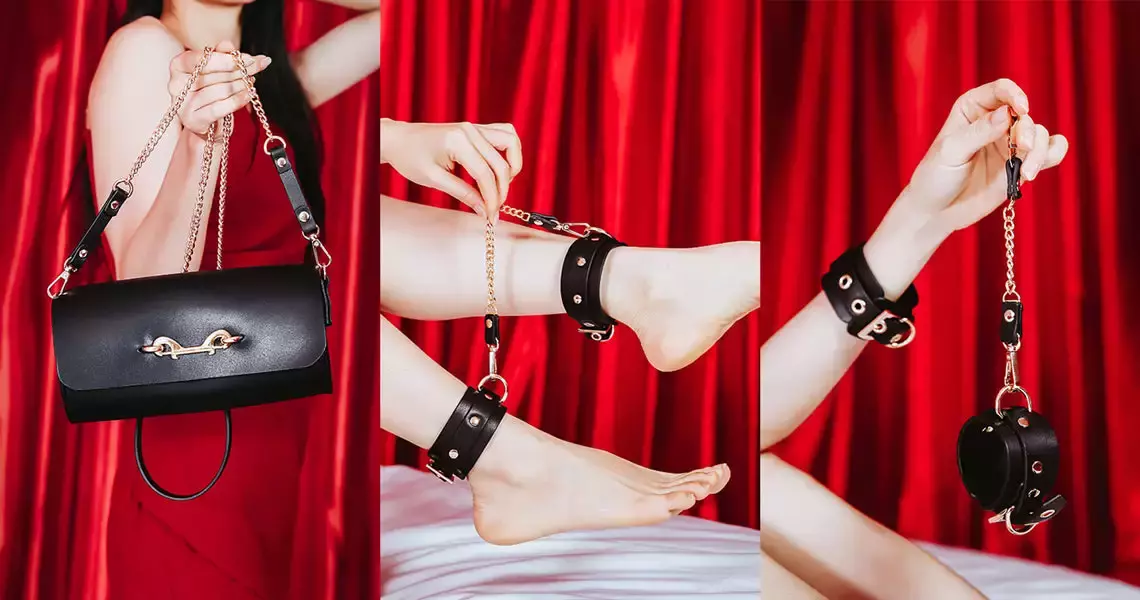 Advantages
Made of soft and durable leather
Adjustable shoulder straps for all sizes
Designed for beginners
Storage pouch design is convenient for you to carry around
Concealed Packaging
Disadvantages
Summary
This is a product designed for those looking for a higher level of stimulation, so if you too want to experience sex differently, then make sure you don't miss it!
Finally, thank you for your reading and support. If you still want to know more about erotic products, welcome to follow us. We will keep updating more content. Thanks for your support!