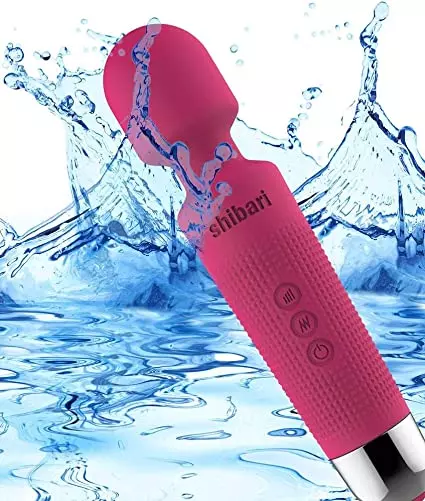 I enjoy exploring different types of sex toys and the unique sensations they can provide, whether intense or gentle, they all share the common goal of providing me with the ultimate pleasure. Among them, the Shibari Mini Halo Vibrator surprised me the most. Despite its unassuming appearance, the exceptional performance and powerful vibrations can make anyone who has used it scream with delight. All you need to do is relax and enjoy.
To give you a thorough understanding of this toy, we will provide detailed information on its specifications, features, and use feeling. If our article is helpful to you, please don't hesitate to follow us. Your support is our greatest motivation for updates.
Rating: (4.8/5)
Specification
Price: $19.95
Material: silicone
Size: 7.8 x 1.6 x 1.6 inches
Power type: USB charging
Charging time: about 90 minutes
Use time: 90 minutes
Use Feeling
Honestly, I was pleasantly surprised when I received this toy. It exceeded my expectations. Of course, looks can be deceiving, so I immediately tried it out. When I turned it on, I could feel the strong vibrations emanating from its soft tip, while emitting a quieter noise than my previous toy. It may not be the quietest product on the market, but it certainly won't disturb your use.
I set it to the lowest level and slowly moved it around my clitoris. It was gentle and the tingling sensation made me feel comfortable. After a while, my vagina became wet. I knew I was becoming excited, so I started adjusting the mode to become more intense. But that wasn't enough, I craved more, more intense stimulation! I tried all the modes until I reached the highest level. "Oh, my God!" I couldn't help but scream as my body arched, one hand grabbing the blanket while the other refused to let go. I knew this was the feeling I had been searching for and I was almost there, about to reach climax. I caressed my body from top to bottom. Finally, with a convulsion, I squirted! I lay on the bed, savoring the feeling, it was truly amazing!
Features
As a classic wand massager, it uses a classic design. It is made of safe and comfortable silicone material, which is more comfortable to grip and not easy to slip. Moreover, it can provide a silky touch while in use. Indeed, this greatly enhances pleasure and provides an unforgettable sexual experience.
In terms of performance, the powerful and quiet motor has 20 pulse patterns designed to awaken and stimulate your sensitive areas. The 8 vibration intensities provide a personalized experience, and you can freely choose the most suitable mode by simply pressing a button. The quiet operation ensures that you are not disturbed while enjoying.
Finally, the 100% waterproof design is suitable for daily use and cleaning. Therefore, it is perfect for vibrating around the swimming pool, shower, and bathtub, bringing a unique experience.
FAQs
Excellent water resistance makes it very easy to clean, you just need to use water and soap to clean.
No, it is not. The operating noise is below 50 dB, allowing you to immerse yourself in it and play discreetly.
How do I charge this massager?
The waterproof seal may make it difficult for you to find the charging port on the wand massager. However, it is located on the bottom of the wand and you can simply press the included charger gently into it.
Advantages
Classic magic wand design
Comfortable textures provide an unforgettable sexual experience
20 pulse patterns and 8 vibration intensities
Excellent waterproof performance
Has a longer service life
Disadvantages
The pink look is somewhat outdated
Summary
Shibari Mini Halo Vibrator is a toy worth trying. Whether you are a beginner or an experienced user, it is almost perfect in terms of price, operation, and high quality. Of course, if you want to try more, the Double-Sided Wand Vibrator is also excellent. If you are interested, you can click to learn more.
Finally, thank you for reading and supporting us. If you want to learn more about erotic products, please follow us. We will continue to update more content. Thank you for your support!