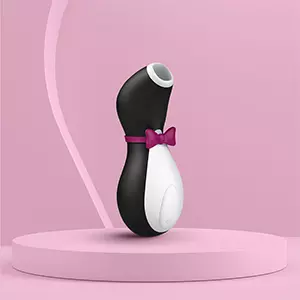 I love exploring the different sensations that different toys can provide, and when I first laid eyes on the Satisfyer Penguin Air-Pulse Clitoris Stimulator, I was immediately drawn to its unique design. It's like a cute little penguin dressed in an elegant evening gown! Moreover, the Satisfyer's revolutionary Air-Pulse technology combined with its charming and playful design creates a curved shape that fits ergonomically with the human body. It's truly perfect for both beginners and experienced players.
Next, we will provide you with a detailed introduction to this product, including its specifications, features, and use feeling, allowing you to have a more comprehensive understanding. If our article proves helpful to you, please don't hesitate to show your support. Your support is our greatest motivation to keep updating.
Rating: (4.8/5)
Specification
Price: $34.95
Material: ABS
Dimensions: 5.55 x 3.58 x 1.9 inches
Waterproof rating: IPX7
Weight: 6.24 oz
Use Feeling
I admit, at first, I was drawn to its cute design. But after actually experiencing it, it changed my perspective. With its impressive performance, I completely fell in love with this clitoris stimulator.
I invited my good friend Betty, who is also a devoted enthusiast of clitoral stimulation. As she lay naked before me, I couldn't resist touching her. We embraced each other and started kissing gently. Betty's skills were remarkable, and it didn't take long for me to start getting aroused. After plenty of foreplay, Betty turned on the Satisfyer Penguin, and I knew the highlight of the evening had arrived. She slowly approached my intimate area and began gently gliding it around. The comfortable suction and pulsation provided immense pleasure. It felt similar to oral sex but with much stronger sensations.
The quiet operation didn't disturb our enjoyment, and soon the room was filled with nothing but our moans of pleasure. We engaged in a 69 position, massaging each other's clitorises with the powerful motor bringing waves of intense pleasure. I eagerly spanked her buttocks and applied lubricant. In the end, as we cuddled in each other's arms, the bedsheets and our bodies were covered in the evidence of our intense pleasure.
Features
As a Air-Pulse clitoris stimulator, the Satisfyer Penguin stands out from traditional sex toys. It is made of ABS material and utilizes non-contact pressure wave technology to provide suction and pulsation. This creates a sensation different from vibrators, resembling the feeling of oral sex.
The design incorporates ergonomic principles, with an elegant bow tie and unique shape, making it particularly suitable for beginners exploring their sensuality. In terms of performance, it offers 11 different intensity settings and is easily adjustable. You can freely switch between them, allowing you to reach new sensory heights through intense clitoral stimulation. Its excellent insulation ensures quiet operation, guaranteeing it won't disrupt your moments of pleasure. Additionally, it has an IPX7 waterproof rating, allowing you to enjoy it in the bathroom. It can be submerged in water up to 1 meter deep for up to 30 minutes.
FAQs
How long does it take to recharge?
The first charge can take up to 8 hours, but a normal charge may take less time, just a few hours to fully charge.
Pro Penguin's white silicone tips are removable and easy to clean! Simply pop out the tip and wash with mild soap and warm water. Once the tip is dry, you can reattach it to your Penguin and you're ready to go!
Is its package delivery discreet?
Of course, all packaging is 100% discreet. They are wrapped in an opaque bag inside the shipping box. So even when the shipping box is opened, the products are carefully wrapped inside.
Advantages
Ergonomic shape design
The ultimate in enjoyment with non-contact pressure wave technology
With 11 different strength levels
Quiet operation
Excellent water resistance
Disadvantages
Summary
Overall, as a toy designed for beginners, it definitely meets the mark. If you've tried many vibrators before, it's worth experiencing something different with this uniquely shaped toy.
Finally, thank you for your reading and support. If you still want to know more about erotic products, welcome to follow us. We will keep updating more content. Thanks for your support!