Tracy's Dog always surprises us with their innovative toys, and the Tracy's Dog Bendable Clitoral Sucking Vibrator is no exception. This vibrator features 10 suction and vibration modes designed to stimulate the clitoris and G-spot, pleasuring women and couples alike.
Next, we will provide you with a detailed introduction to its specifications, features, and use feeling, allowing you to gain a comprehensive understanding of this product. If our article proves helpful to you, please don't hesitate to show your support. Your encouragement is our greatest motivation for further updates.
Rating: (4.8/5)
Specification
Price: $89.99
Material: silicone
Color: light purple
Size: 8.86 x 7.56 x 3.43 inches
Weight: 1.17 lbs
Use Feeling
I have a strong sexual desire, to the point where it's hard for me to achieve the satisfaction I desire with just my hands. But this toy changed that. It's a whole new experience that allows me to orgasm multiple times, each time with a different sensation. So, I couldn't wait to share it with my good friend Mary.
Mary, like me, is a devoted fan of clitoral vibrators. When I shared this magical toy with her, she was ecstatic. We undressed each other and started with foreplay. Our bodies intertwined, accompanied by moans of pleasure. When our bodies were sufficiently aroused, she slowly inserted the toy into my vagina. Its smooth surface easily glided in, providing a soft and pleasurable sensation. For me, the initial vibration wasn't too intense, which I enjoyed. But when she placed the suction end on my clitoris, everything changed. The dual stimulation made me scream in pleasure, and it was more intense than any other toy I had used before.
We continuously changed positions and kissed and caressed each other. Finally, with the help of the toy, we both reached orgasm.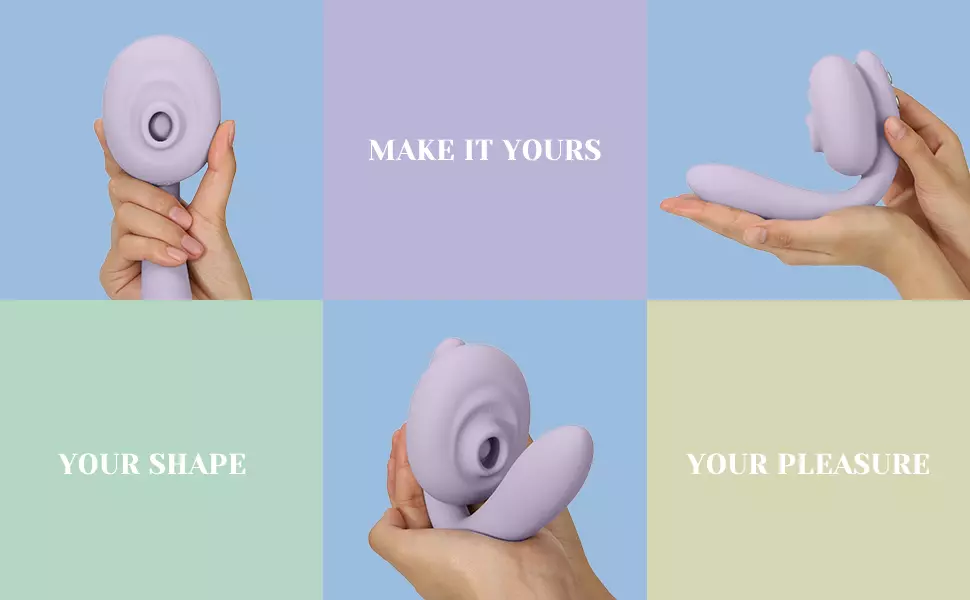 Features
The Tracy's Dog Bendable Clitoral Sucking Vibrator is made of high-quality silicone material, which not only feels soft and comfortable but is also completely safe. Its excellent waterproof performance makes it easy to clean and unlocks more exciting places for greater enjoyment. The unique design is intended to provide stronger stimulation, and the flexible bendable design allows you to quickly and easily adjust the angle to suit your flexible and sturdy arm.
In terms of performance, it is also multifunctional. It combines a clitoral suction toy with a G-spot massager, offering dual stimulation and rediscovering endless new ways to pleasure yourself. Moreover, it offers 10 suction and vibration modes for you to explore, helping you enjoy a personalized experience.
FAQs
Can I use it in the bathroom?
This toy has excellent waterproof performance, with a waterproof rating of IPX6. Whether you use it in the bathroom or for everyday cleaning, it can fulfill your needs and provide you with more enjoyment.
How long can I use it for?
With a USB rechargeable battery, you can fully charge it in just one hour and run it continuously for up to 90 minutes, boosting ecstasy wherever you need it.
Is this toy suitable for couple play?
As an excellent clitoral vibrator, whether you are entertaining alone or with your partner, it can satisfy your needs and bring you maximum enjoyment.
Advantages
Made of soft silicone material for maximum comfort.
Designed with bendable flexibility to perfectly fit your body shape and customize your toy.
Dual stimulation for a more powerful orgasmic experience.
10 suction and vibration modes to personalize your experience and help you explore new ways of pleasure.
Disadvantage
Summary
It's absolutely exciting, and honestly, I can't praise this toy enough. If you're looking for a highly stimulating toy, this is suitable for you! The combination of vibrator and suction at the top is truly extraordinary. Of course, if you want other more powerful toys, we have them on our homepage as well. Feel free to click the subscribe button below to check them out.
Finally, thanks for your reading and support. If you want to learn more about adult products, please follow us. We will continue to update more content. Thank you for your support!